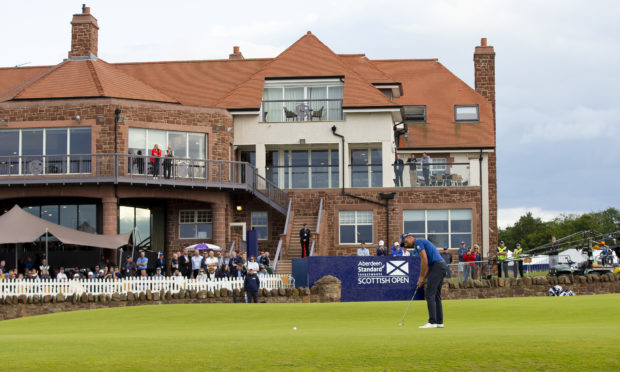 The Aberdeen Standard Investments Scottish Open is likely to be back at The Renaissance Club for a second successive year in 2020, with any faults at the venue "easily solvable", according to ASI chairman Martin Gilbert.
Players have been critical of the East Lothian course – a private members' club sandwiched between Muirfield and North Berwick – being too easy and too short, while there were also issues with spectator movement due to the heavy rainfall during the tournament's debut at the venue this week.
However the benefits of the site close to Edinburgh and record crowds for the week despite the inclement weather mean a return next year is probable, according to Gilbert.
"We are obviously going to take some feedback from the players after the tournament, which will be important, but it is no secret that we want to come back here," said Gilbert, whose company has been the title sponsor of the Scottish since 2011.
"The players love the facilities. I played with Rory (McIlroy) in the pro-am and he said it is great.
"We've been told that the course is a bit too easy, but a links course with as much rain as we've had, and no wind, is pretty much defenceless.
"East Lothian is a brilliant area for us to have the tournament. We had the record Saturday crowd – just over 17,000 – yesterday and the bars had record takings yesterday as well. The atmosphere was good."
The partners for the Scottish – ASI and VisitScotland – continue to look at other venues but their preference is to return to The Renaissance next year.
"As far as ourselves, VisitScotland and the European Tour are concerned, this venue works in terms of location and facilities," continued Gilbert.
"I was speaking to staff here and they say this is the easiest they has ever seen the course, so we have been a bit unlucky in that respect."
Rory McIlroy said after the Saturday round that he thought the greens were too slow, making it easy for players to "miss" on the wrong side.
"The issues that have been brought up are solvable," continued Gilbert. "We are not talking about structural issues.
"We are dealing with how the course is set up and Rory McIlroy's points about green speeds were very valid. There is not enough punishment for a bad shot."
Similarly, any logisitical issues within the site were the kind that would be sorted out after a debrief of the debut year, he said.
The event will be in the slot immediately prior to the Open Championship again next year, and the partners are loath to give up their place in the schedule.
"We are reluctant to give up this date, this is the ultimate date in the calendar," said Gilbert.
"If you look at the field in the other events that are on at this time, there is no one in the world's top 50 playing. I think we have maybe 20 playing, it is a very strong field."