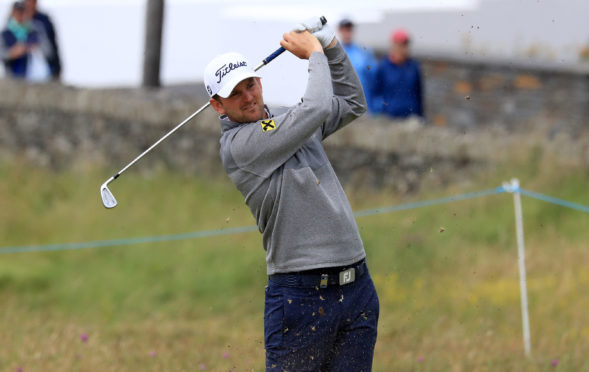 Austria's Bernd Weisberger finally ended the scoring frenzy at the Aberdeen Standard Investments Scottish Open as the clock ticked towards 9 pm by denying France's Benjamin Hebert a Bastille Day triumph in a three-hole play-off at The Renaissance Club.
Weisberger's par four on the pair's third trip down the 18th in extra time finally clinched his sixth tour title but his first in the European Tour's lucrative Rolex Series. Hebert, who also lost a play-off in the Volvo China Open earlier this year, had putts to win on the first two extra holes but couldn't convert.
The pair had tied on a tournament record 22-under aggregate of 262, with the 33-year-old from Vienna leading by a shot with two to play but having to hole a six-footer on the last to force extra holes.
Weisberger is certainly a man in form heading to Royal Portrush this morning. Winner of the Made In Denmark event in May – pipping Scotland's Robert MacIntyre – he was second only last week in the Irish Open before finally outlasting the field in East Lothian.
Hebert's consolation is one of the three places in the Open Championship available to finishers in the top 10. The other two remaining places for the historic return to Portrush this week were taken by Andrew "Beef" Johnson, who shot a final round 62 to come from nowhere, and Italy's Nino Bertasio.
But the Frenchman will long rue his opportunities in the play-off. He missed a tricky ten-foot birdie putt down the slope the first time around, and then three-putted from 20 feet with Weisberger having already made a five at the second visit.
Hebert had the benefit of a generous drop on that second hole and he got another on the third trip down 18, but this time he failed to make par, missing from five feet. Weisberger had a three-footer left for his four and made it for the £900,000 plus first prize.
"That was something different," said the exhausted winner. "Benjamin had me on the first two play-off holes but that is sometimes how golf goes. He has had a great Sunday and a great week, and I am very appreciative to stand here as the winner.
"This was the biggest tournament I have been in position to win, and it was a tough grind. I didn't hit my iron shots well and I struggled but I just had to dig deep.
"If you do that you sometimes get rewarded every now and then."
He enters the Open with a second and first place finish in successive weeks, both on seaside courses, and is understandably confident.
"I was lucky to seal my spot last week in Ireland with a great finish, and to go one better this week is amazing.
"I can't be in better spirits after the past two weeks. I am really looking forward to teeing up at Portrush."
Weisberger had worked his way into position for the title on Friday with a course record ten-under 61, and seemed to have the title in his grasp on Sunday when he holed from ten feet for birdie at the long 16th to go a stroke ahead of Hebert, who had stormed into contention after a bogey-free, nine-under 62 on another largely windless day.
However the Austrian dropped a shot at the next hole, missing a putt from five feet for par, and needed a steely nerve to get his par four up the last when he drove into heavy rough, came up short and then blew his first putt six feet past the hole.
Weisberger was last involved in a play-off in Scotland at the Johnnie Walker Championship in 2011 when five players were involved over five extra holes before Thomas Bjorn took the title at Gleneagles, but this one was mercifully shorter.
Johnson 's sensational 62 was complete before the final group even teed off, leaving the popular Englishman a long wait to find out if he had a chance of winning the tournament, or qualifying for the Open.
The former was always unlikely given the ease of scoring, but his 19-under total held up as the rest of the field came in to get him an eleventh hour place at Royal Portrush.
However, with his new perspective on life after some mental struggles, Beef was happy whatever was going to happen to him.
"Life's good, man," he said of his career low round. "It's been a hard year. I've tried so hard in the last year, and yet to come out and shoot a score like that is such a nice feeling.
"I was just having fun out there. Just try and take next shot, next shot and just kept chatting absolute rubbish to my caddie and just tried to stay in that sort of frame of mind."
Johnson burned himself out with the Beef phenomenon of 2016, but he's back on an even keel with a fiancée, a baby on the way and a return to form. His honesty in relating his troubles publicly, in a blog on the European Tour website, was much commended.
"It's the truth, isn't it? Why not say it?" he said. "You can't go wrong with saying the truth.
"Now, even if the golf doesn't go so well, life's good."