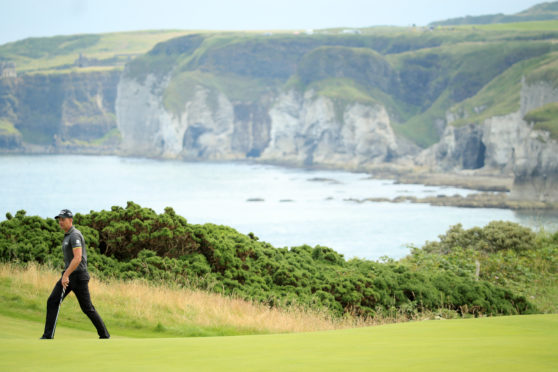 It rained yesterday, it's forecast to rain today, Friday, Saturday, Sunday and Monday if we're extended into an extra day like 2015. Pay attention to guys who look good in a rain suit.
Henrik Stenson: The 2016 champion, the only man in Open history to shoot a 63 in the final round to win, has undergone elbow ills and flat-lining form ever since. Some may have had the Swede typecast as a one-time major champion, and at 43 he may not have too many chances to disprove that. But he comes into Portrush in good form, on a track where his strength, that crisply struck and controlled 3-wood, should be a major weapon. And he's always been a good bad weather player.
Shane Lowry: The considerable burden of expectation on the Irish contingent – specifically the Northern Irishmen – may make this Open too emotional an occasion for them.  Rory McIlroy's ability to blinker out that kind of stuff makes one think he should be the leading home runner, but Lowry has the right mixture of solid hitting and soft hands, and as an Offaly boy from south of the border he's just enough removed from the emotion. Plus he's maybe the best links golfer from Ireland and at his best with a rain jacket on.
Jon Rahm: Sometimes, for no real reason, a player gets comfortable in what should be alien ground and initial success breeds more success. Rahm has won two of the last three Irish Opens on links – he was T4 in the one inbetween – featuring all kinds of winds and weather conditions. Played here in the 2014 Amateur and lost in the first round on extra holes, but he looked like a future winner even then.
Eddie Pepperell: Behind the humourous and whimsical tweets and the thoughtful blogs lies a serious player who knows his strengths and weaknesses and doesn't get caught up trying stuff that he's not comfortable with. It was no coincidence that when the wind stiffened on Sunday at Carnoustie last year Pepperell shot a brilliant 67 and for a while was even thinking of Paul Lawrie-esque glory as the field struggled and came back to him. He eventually finished just two back, but that day showed he's at his best on tough courses in challenging conditions.
Rickie Fowler: There's a definite feeling this is an Open a little like 1999 or 2007 at Carnoustie – new and unfamiliar ground for the American players who have recently dominated the majors, and as a result we should be leaning toward a European or Southern Hemisphere winner. The weather also conspires against them, but the one US player with a reputation for excelling when conditions become challenging is Fowler, mostly from his brilliance in a Saturday storm at Sandwich in 2011. Now 30, Fowler is overdue for a major title, and this could be his time.
Erik van Rooyen: Our absolute outsider is a late-developing South African who at 29 has played in just three majors; last year's Open where he led for a while before finishing T17, a T8 at the PGA and a T43 at the US Open. He also led the Irish Open last year and Scottish Open just a week ago for a while, shooting two 64s at The Renaissance Club before fading on the weekend. It all shows the Cape Town native has an ability to play in windy conditions and on links courses, whether they're playing hard or soft. A decent each-way shout at least.