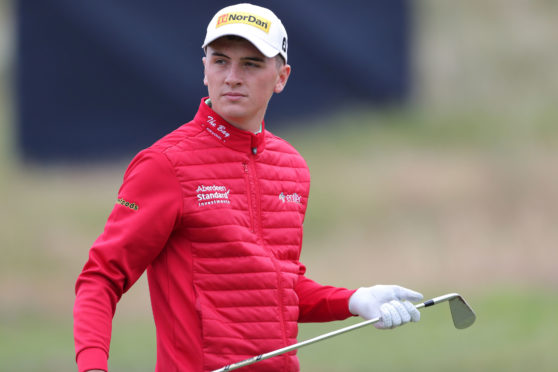 Sam Locke is becoming his own man, plotting his way around Royal Portrush without the advice and oversight of his mentor Paul Lawrie, before both play in the 148th Open Championship at Royal Portrush.
"It's been good so far," said the young Scot, who came through final qualifying for a second time in successive years, this time as a professional  having played all four rounds as an amateur to win the Silver Medal last year.
"I played 18 holes yesterday and nine today, then got caught in the rain. The course is very good.
"I haven't actually played with Paul yet, we just did his Open Zone things this morning, which was quite good fun.
"We had a chat about his victory at Carnoustie, a bit of a chat with me, then he had to try to replicate his great four-iron winning shot from 1999 – there was a target yardage he had to hit.
"Paul's not given me a lot of advice, just to try and treat this like any other tournament."
Sam doesn't feel a whole lot different to last year, other than having some experience to put to good use.
"I know what to expect from the whole Open experience, having been here last year as an amateur," he said. "You know what you're getting into. I think that has to help."
He now knows that playing in the same field as the Tiger Woods and Rory McIlroys of this world has changed for him.
"Well, I'm competing against those guys now," he said. "It's cool to be playing in the same event as all of those players – but now I'm trying to beat them. I'm here to do my job now.
"I have seen a few familiar faces in the crowd and the family are all over. My Dad is on the bag and I've also seen some of the local people out following me, which is really nice. I hope to get some good support.
"The first aim is to make the cut and be here for the weekend. After that, try to finish as high up as possible."