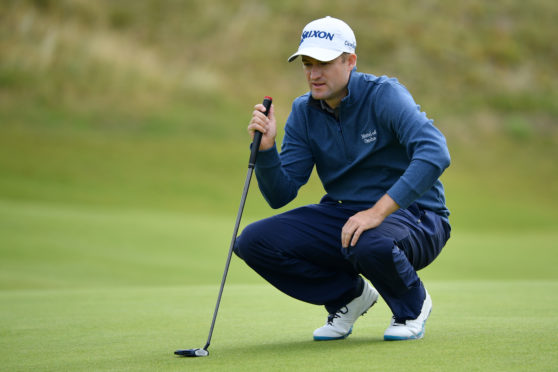 Russell Knox had his worst possible day on Tuesday and left Royal Portrush bereft that he'd lost his swing just two days before the Open Championship.
However he went back to the range only on Wednesday vowing not to leave until it was sorted, and he returned a tidy round of 70 once play got underway proper.
"If I had a day like I had on Tuesday, my bags would be getting packed by now, but yesterday I found a bit of confidence, got my swing and my rhythm back," he said.
He found it by playing the course on the range; hitting the clubs he'd play at every hole without leaving the practice area, a suggestion of Lynn Marriott and Pia Nilsson, the two popular golf/mind coaches from Florida, where Knox is now based.
"I've done that in the past, play the course on the range – but barely ever at a tournament," he said. "I've done it at home in preparation for the Masters, because you know every hole there.
"On Wednesday I didn't feel like going out on the course, getting tired and out of focus like I did on Tuesday, so I hit the shots I needed to hit out on the range, changed club every time. I really enjoyed it."
"My only goal when I came to the course on Wednesday was to leave feeling confident and happy, because Tuesday was horrendous and I left the course depressed about my game.
"So I've just flipped it 180 degrees, and now I feel much better."
Few players had as adventurous a start to their Open campaign than Connor Syme, who nearly went in the same out of bounds off the first tee as Rory McIlroy, but had a much better final result.
Connor as short of the OB markets by four or five yards, "took his medicine" – his caddie had the wedge in hand almost immediately – and hacked out to a good number. He then hit a perfect wedge 94 yards, right into the hole for a birdie three.
"Crazy," he said. "I was lucky to still be in bounds going up the left hand side, ended up walking off with a three.
"I knew I hit the wedge shot perfectly it landed ideal, but didn't think it would go in. Can't remember the last time I holed a wedge shot in a tournament."
From there he ground around well and was two-under with five to play, but a double at 14 and bogey at 15 left him with a one-over 72, still not atg all shabby.
"One real mistake today, other than that I played really smart. I think everyone thinks the front nine's going to be your scoring nine and it was good to hang on down the back nine."
It was a better experience than his first Open, at Royal Birkdale two years ago – the starter pronounced his name right for a start – and he's in good shape to try and beta the cut.
"I need to get my timings better, it's a long run over from the range to the first tee and I ended up being a bit rushed," he admitted.
"But that can be a good thing, you don't want to hang around too much, you'd rather just get going. I felt calmer and much steadier this time."
Paul Lawrie had feared he hadn't played enough top order golf to be up to speed with an Open Championship's demands and it proved that way with a four-over 75.
On the 20th anniversary of his famous win in 1999 at Carnoustie, Lawrie had two early birdies and looked in good order, but had just one more the rest of the way and six bogeys, including the last two holes.
Sam Locke's second experience of the Open was a struggle early on and again around the turn, just when the weather was at its most annoying, but he had birdies in there at the second and eighth and steadied the ship on the homeward stretch, finishing with a nice birdie three for a 75, like his mentor's.