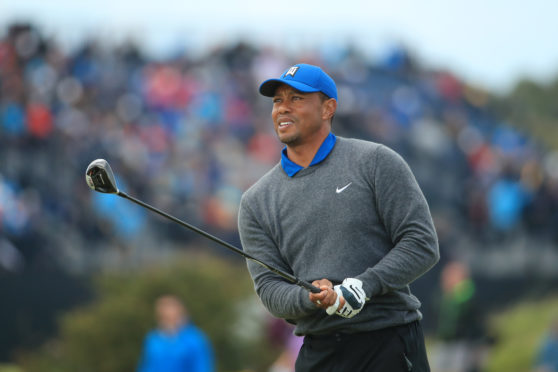 Tiger Woods looked supremely uncomfortable from the moment he appeared on the first tee at Royal Portrush. He never looks entirely comfortable standing at the interview zone either, but it was physical irritation that most concerned him yesterday.
A seven-over 78 was his poorest first round in an Open Championship, and worst of all since the notorious 81 at Murifield in 2002. But it was obvious this time he wasn't fully fit.
He winced clearly after his opening tee shot went left, and looked to be walking gingerly for much of the rest of the day, as he made just one birdie, while recording six bogeys and a double.
"Best I could do was 7-over," he said. "I'm sore, yes. I'm sore.
"It's just the way it is. Just Father Time and some procedures I've had over time. Just the way it's going to be now."
"Playing at this elite level is a completely different deal. You've got to be spot on. These guys are too good, there are too many guys that are playing well, and I'm just not one of them."
He didn't go into specifics, but Woods admitted that he had to "piece together a swing that will get me around a golf course".
"I had a hard time moving," he said. "I made probably one of the best pars you've ever seen on the first today. That was a pretty good start. But it was kind of downhill from there."
Treatment back at camp is all he can do, and hope that his body responds. He didn't sound that confident about it, though.
"I'm not 24 anymore," he said. "I can't devote the hours to practice like I used to. Standing on the range, hitting balls for four or five hours, go play 36, come back, run 4 or 5 miles and then go to the gym. Those days are gone, okay?
"I have to be realistic about my expectations and hopefully peak at the right time. I peaked at Augusta. Hopefully I can peak a few more times this year."