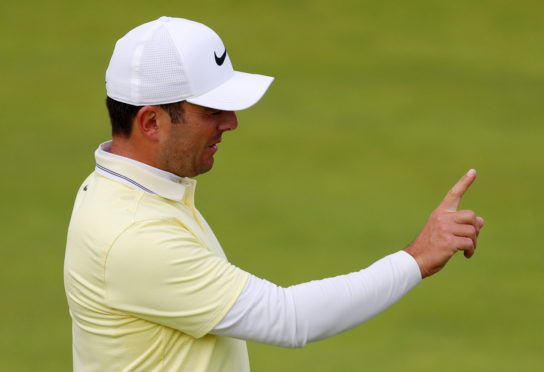 Francesco Molinari's last day as reigning Open champion – for now – got better as everyone else's got worse.
The defending Open champion finished with a five-under 66, by some margin the best score of the day, and compiled in the morning before the wind and rain really took hold.
Take hold it did with a vengeance, and scores soared as Molinari, at three-under, dry and comfortable in the players lounge, moved gradually up the leaderboard before finishing tied for 11th – a much better defence than he had imagined.
"In general the week obviously not what I was hoping for," he said. "But at the same time I think it's understandable, it's never easy to defend the championship, and especially so in a major.
"It's been an interesting week. It gave me a sense of closure coming back here and defending and getting the week done, and I'm happy the way I played today.
"Hopefully next time I'll be mentally more ready to defend another major."
Molinari's preparation for the championship went so well, he said, that it raised his expectation.
"In a way that harmed me," he said. "I didn't do a good enough job of just really enjoying the week, staying calm, enjoying the emotions that I felt through every day.
"Today I embraced a bit more of the emotions. I had a chat last night with (coach) Dennis (Pugh) and the rest of the team just to try and play with a bit more passion.
"I played better on Friday because I wasn't liking the idea of missing the cut. Saturday it was back to just playing golf but not really with enough of my heart in it.
"So we just said today to go out and just enjoy and leave all the emotions I was going to feel and put a bit more passion into it, and it seemed to have made the difference."
Francesco has enjoyed the year as Open champion, and as Ryder Cup hero.
"Yeah, I've enjoyed that massively, and I've worked so hard to get there," he said. So I've enjoyed seeing more recognition and seeing expectations from the outside.
"This week was a new challenge because I have never defended a major title before. Making the cut was massive, I would say, after Thursday and finishing with a round like today in these conditions.
"It's going to hopefully give me some momentum going forward."