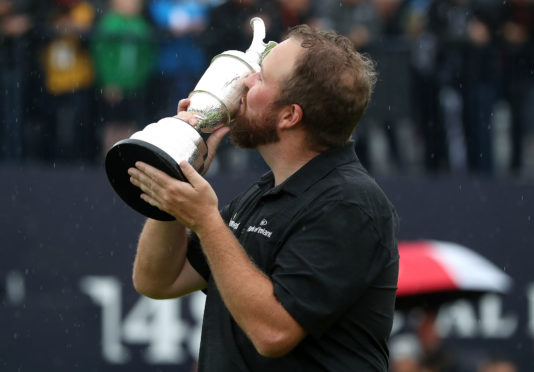 Shane Lowry's Open Championship victory was constructed on a quiet coffee with his Scottish coach Neil Manchip at a nearby hotel, and then executed in steadfast style in front of thousands of his euphoric countrymen at Royal Portrush.
The 33-year-old who "gatecrashed" professional golf by winning the Irish Open as an amateur ten years ago, finally claimed the thing he most wanted with the Open title, and just 150 miles from his home in County Offaly in his native island of Ireland.
They like a procession in this part of the world and this quickly became one, although it took time to complete in the winds and rain that swept over the Causeway Coast. Lowry, defending a four shot lead, turned it into a six-stroke win with a final round 72 for a 15-under aggregate of 269, ahead of playing partner Tommy Fleetwood, who recorded a round of 74 on the final day.
American Tony Finau finished third, with veteran Englishman Lee Westwood and World No 1 Brooks Koepka – recording his fourth top five in the majors this season – sharing fourth. Scotland's new young star, left-hander Robert MacIntyre, was one of three players in sixth place.
Manchip's coffee and chat on Wednesday – in the Bushmills Inn hotel just up the road – proved the key, said Lowry, who felt "nervous and anxious" on the eve of the championship.
"You come up here, and I suppose the other Irish lads would have had this as well; the last thing you want to do is come up here and miss the cut," he explained.
"I wanted to play at least four days, and wanted to put up a good show for myself.
"After the chat I left the Bushmills Inn and I really felt like I could go out and perform to the best of my ability the next day. So it obviously helped me an awful lot along the way."
That was the foundation, but Lowry's brilliant finish on Saturday night, when the wind died and the course was there for the taking, was what secured the path to victory.
Only he in the field really seized that opportunity, getting birdies in three successive holes from the 15th, while the rest stood pat. Fleetwood was five-under after 12 holes of his second round and then level with Lowry playing just behind, but the Englishman didn't advance his score form there.
Still Fleetwood could have started a fire in the cold and wet on the final day if he'd ignited on the early holes when Lowry was clearly nervous. Instead, his form on the greens deserted him.
The greens were slower due to the moisture and a decision to not to cut with a threat of 40 mph winds later in the day. The tee-times had already been brought forward by two hours, but the weather front came in anyway just as the leaders were heading out.
Lowry, looking visibly edgy, hooked his opening tee shot into heavy rough, hit into a greenside bunker, came out short and then putted up still with eight feet left. Fleetwood was ten feet away after his second shot, but his birdie putt stayed right.
The Irishman's huge fist-pump after he holed his bogey putt rather betrayed his nerves more than illustrated the importance of making the putt, but he had avoided an immediate three-shot swing and a potentially seismic dent to his confidence.
"You're standing on the first green, Tommy has a great chance of birdie and I'm putting for bogey from eight feet," said Lowry. "There's a potential three-shot swing. He misses, I make, and there's only one shot. That settled me an awful lot."
Fleetwood then missed a 15-footer for birdie at the long second as Lowry could also only make par, and the Englishman's third missed putt at the short third was for par. Instead of being just a shot behind after three holes of the final round had he made those three key putts, Fleetwood was back to four behind.
Lowry promptly birdied the fourth after a superb approach to four feet, and he was reasonably comfortable from then on. Behind them Koepka vanished from sight with four successive bogeys to start, although the World No 1 rallied to finish in a tie for fourth with a three-over round of 74.
Justin Rose, out in 41, was never a factor. JB Holmes, the co-leader after two rounds, crashed spectacularly by hitting his opening tee shot out of bounds and had four double bogeys and one triple on his way to an 87, going from ten-under to six-over.
Fleetwood kept up his faint hopes of staying with Lowry especially as the Irishman hit choppy waters around the turn with three bogeys in five holes, but a double bogey six at the 14th just as Lowry had a bogey ended the day as a contest.
"Even though I bogeyed 14, I thought I played the last five holes incredibly well," he continued. "And I felt incredibly good, I felt like I was going to do it.
"It was just incredible to walk down 18. The crowd is going wild, I just couldn't believe it was happening to me.
"To have Paddy (Padraig Harrington) and G-Mac (Graeme McDowell) standing on the back of the tee for me was very nice. And obviously to have all my friends and family, I spotted them all at the back of the green before my second shot and to be honest, I welled up a little bit then.
"I tried to soak it in as much as I could. It was hard to soak it in because while I'm sure there was a lot of the crowd that wanted me to win today, it was quite surreal to actually experience it."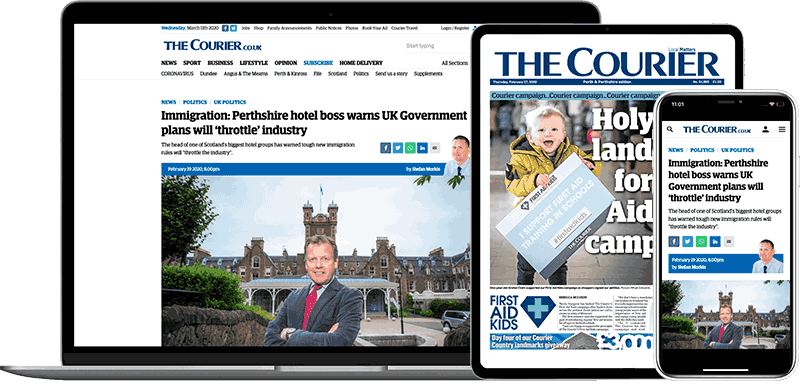 Help support quality local journalism … become a digital subscriber to The Courier
For as little as £5.99 a month you can access all of our content, including Premium articles.
Subscribe