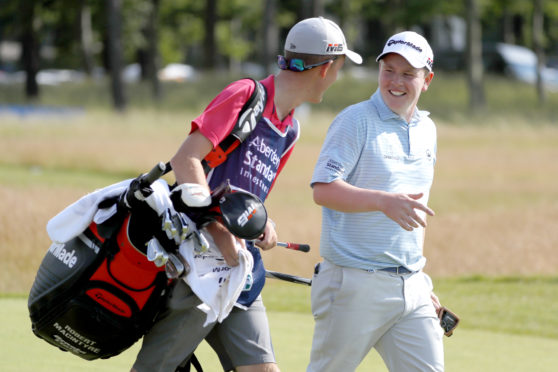 Russell Knox thinks that the new influx of Scottish talent on the major golf tours will lift the country – and put smiles on everyone's faces.
The Inverness-born, Florida-based Knox has been the only Scot to stay in the World's Top 100 consistently for the last few years, but it seems likely he will be joined soon by the 22-year-old left-hander, Robert MacIntyre.
The rookie from Oban finished tied for sixth in the Open Championship at Royal Portrush, the best Scottish finish in the Open since Colin Montgomerie was runner-up to Tiger Woods at St Andrews in 2005, and Knox has been watching with interest.
"I do keep a bit of an eye on what's happening with Scottish golf, Robert has been getting some good press, quite rightly so, because he's been playing very well.
"Grant Forrest also looks like he's going to be a great player and it's about time there was a good crop of young players coming through. It wasn't too clever for a while, but I don;t think there was any specific reason for that; we just needed to play better golf.
"Hopefully myself and Martin Laird can keep playing well over the US – and the older guys on Tour over here can keep going too."
The younger guys have a different mindset not just with their play, but their attitude, he added.
"I think the fact that Bob smiles and engages the galleries has helped a lot, absolutely. There's a new kid who has just come out on tour in the States, Viktor Hovland from Norway, and he's grinning from ear to ear every minute.
"People love that because really golfers are all far too grumpy. It's a huge plus for Robert because it takes very little to smile but if you do it, you gain a lot of fans.
"Then if you are halfway decent, you'll win more. And Robert is way better than halfway decent."
Knox is also feels affinity with MacIntyre having come out of Oban – like Inverness, not really a hotbed of Scottish golf.
"If shows everyone that if you're good at golf, it doesn't matter where you're from," he said. "The only goal is to get the ball in the hole quickly.
"He's just 22 and at that age I was just out of college, playing mini-tour golf – and I wasn't very good. Not compared to what I am now.
"I definitely wasn't ready then to play PGA Tour or European Tour golf, but times have changed. At that time you were almost ready at 25 or 26. But the average age was definitely in the 30s – and it doesn't feel like that now, even on the PGA Tour.
"At 22, you'd better be ready – or you're getting lapped."