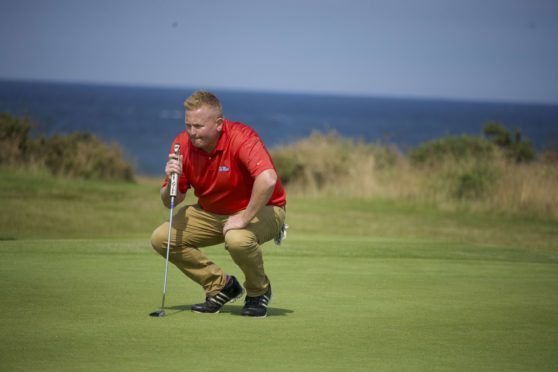 Callum Macaulay's "positive but realistic" decision to give up professional golf has allowed him to recover his enjoyment of the game as he reached the last 16 of the Scottish Amateur Championship at Crail.
The 2008 champion returned to the event after a decade-long gap during which he tried to establish himself on the European Tour, but the grind and pressure were too much for him, he now admits.
The 35-year-old, who was a member of Scotland's World Amateur champion team also in 2008, is happier in the less frenzied world of amateur golf and even believes he's actually hitting the ball better since he waited two years to regain his status and the game stopped being his job.
With two victories on the first two rounds yesterday, beating Andrew Gibson of the New Club, St Andrews by two holes and then a handsome 4 and 3 win over Royal Aberdeen's Craig Leith, Macaulay admitted that three years ago he recognised he couldn't compete in professional golf on the European and Challenge Tours, and that it was time to step back.
"I had moments when I thought I played great and finished 30th," he said. "But most of the time you're spending £3-4 grand a week, coming home Friday night and you're miserable.
"To walk away was a positive decision but a realistic one as well. And it was for my own sanity and my family's well-being because I could be an angry man at times."
He and wife Clare-Marie, a teaching professional, have two young sons and Callum now works as a consultant with First Point USA, the company which helps young prospects find sports scholarships at American universities and colleges.
"I just wanted to get back to the stage where it was fun again," he said. "I am now starting to enjoy it again and ironically I'm striking the ball better than I have for years.
"I'm pretty much un-coachable, anyone will tell you, I tried to change everything when it wasn't going well and my game went completely to pot. It was better to stick with what I know.
"But at the end of 2016, I just thought, `why not use the 10 years experience I've got, go back and play as an amateur and just enjoy it?'
"I want to compete, but I want it to be a pleasurable experience. If I hit a bad shot now, it's `ach, just brush it off' when before it was `I'm going to miss the cut and how will I pay the mortgage?' My goals and aspirations are away from golf now, although I'll never lose my love for the game.
"This week I know if I don't play well, I'll be happy to see my family and I have a great job I'll be back at on Monday morning."
Macaulay admits that getting back to 36 holes in a day "leaves me shattered" but fortified by fish and chips at Anstruther last night with the family he'll take on Craigielaw's Angus Carrick in this morning's last 16.
Another veteran Matt Clark returned hugely impressive nine-under figures in defeating Carnoustie's Will Porter and there are still some Fife County hopes left in there, with the host club's George Burns winning his last 32 match against Dan Lawrence from Balumbie Castle 7 and 6.
John Paterson, the former Scottish Boys Strokeplay champion from the New Club, picked up a couple of good scalps defeating defending champion Euan McIntosh in the first round on the final green and then more comfortably besting Millport's Craig Pirie 4 and 3, and will now meet Connor Wilson (C Castle Park) in the last 16.
Leading qualifier Stuart McLaren went out at the second round stage and the draw now features two excellent dual-qualified young Australians in Josh Greer and Louis Drobbelaar.
Greer, who moved to Perth from Port Glasgow seven years ago, was a surprise finalist in the Scottish Boys at Scotscraig two years ago and has continued to develop strongly, now as part of the Australian national team set-up.
Drobbelaar is a year younger at 17 and from Brisbane, qualifying through his Scottish mother. He's been playing the European summer circuit this year while recovering from elbow surgery that cost him a year out of competition.
First round: Stuart McLaren (Bruntsfield Links) bt Conor O'Toole (Craigmillar Park) 3 and 2, Lachlan Reynolds (Hilton Park) bt Rob McGregor (Tehidy Park), Thomas Simmonds (Gullane) bt Murray Naismith (Dalmahoy) 4 and 3, Joshua Greer (Joondalup) bt Liam Duncan (Dunnikier Park) 2 and 1; Jeff Wright (Forres) bt Ferghus Milne (Banchory) 4 and 2, Stuart Blair (Royal Musselburgh) bt Jamie Roberts (Muckhart) 2 and 1, Lewis Irvine (Kirkhill) bt Calum Scott (Nairn) 2 and 1, Ryan Copland (Moray) bt Alistair McNaughton (Caldwell) at the 19th.
Angus Carrick (Craigielaw) bt Ross Dallas (Forfar) 4 and 2, Andrew Davidson (Charleton) bt William Walker (Glenbervie) 3 and 2, Craig Leith (Royal Aberdeen) bt Alastair Thurlow (Murrayfield) 1 hole, Callum Macaulay (Ralston) bt Andrew Gibson (St Andrews New) 2 holes, Will Porter (Carnoustie) bt Ruari Mair (Buckpool) 2 holes, Matthew Clark (Kilmacolm) bt David Rudd (Longniddry) 5 and 3, Sean Marc (Broomieknowe) bt Kieran Cantley (Liberton) 1 hole, Gregor Graham (Blairgowrie) bt Dylan Smith (Portlethen) 2 and 1.
John Paterson (St Andrews New) bt Euan McIntosh (Turnhouse) 1 hole, Craig Pirie (Millport) bt Mark Napier (Turnhouse) 1 hole, Connor Wilson (Castle Park) bt Harry George (Downfield) 2 and 1, Jack Broun (Ayr Belleisle) bt Graeme Brown (Cathkin Braes) 7 and 6, Stuart Thurlow (Murrayfield) bt Michael Brodie (Alyth) 2 and 1, Louis Dobbelaar bt Aaron Hall (Kilspindie) 2 holes, Ewan Wheat (Royal Montrose) bt James Wilson (Balmore) 2 holes, Darren Howie (Peebles) by Aidan O'Hagan (Old Course Ranfurly) 1 hole.
Greg Ingram (Hazlehead) bt Mitchell Cowie (Dumfries & County), Marcus Rickard (Cupar) bt Ross Mallon (Kingsfield) 2 and 1, Aamar Saleen (St Andrews New) bt Stuart Graham (Blairgowrie) 3 and 2, Michael Smyth (Royal Troon) bt Matthew Miller (Lundin) 3 and 2, George Burns (Crail GS) bt Gary Wright (Bonnybridge) 6 and 5, Dan Lawrence (Ballumbie Castle) bt Fintan McKenna (Royal Aberdeen) 7 and 6, Calum Daun (Nairn) bt Alistair Fernie (Bruntsfield Links) 4 and 3, Eric McIntosh (Bruntsfield Links) bt Liam Waldron (Royal Aberdeen) 2 holes.
Second round: Reynolds bt McLaren 3 and 1, Greer bt Simmonds 6 and 5, Wright bt Blair 1 hole, Irvine bt Copland 5 and 3, Carrick bt Davidson 2 and 1, Macaulay bt Leith 4 and 3, Clark bt Porter 3 and 2, Marc bt Graham 3 and 2, Paterson bt Pirie 4 and 3, Wilson bt Broun 4 and 2, Dobbelaar bt S Thurlow 4 and 3, Howie bt Wheat 4 and 2, Rickard bt Ingram 4 and 3, Burns bt Lawrence 7 and 6, McIntosh bt Daun 5 and 4.