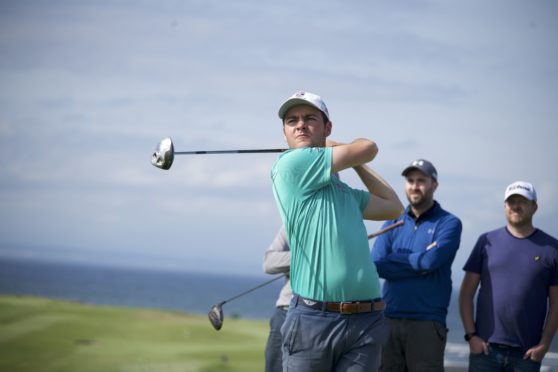 George Burns used to be Robert MacIntyre's foursomes partner in Under-16 golf, but while the University of St Andrews graduate has been watching Scotland's new star make his way on the European Tour, he's happy to have taken more time before giving golf his full attention.
The 22-year-old is the only Fife County survivor in this morning's semi-finals of the Scottish Amateur Championship at Crail, representing the host club he joined just 10 months ago, after graduating with a first class economics degree from St Andrews. The aim is now to "give golf a real go" and he's making good progress this week.
Yesterday he beat former Scottish Boys' champion and No 2 seed Eric McIntosh before winning his quarter-final outlasting the winner of St Andrews GC championship in the last two years, Marcus Rickard, and now faces the Scotland international Darren Howie.
The other semi-final will see Kirkhill's Lewis Irvine take on the self-proclaimed "grandad" of the final four, 37-year-old Scotland international Matthew Clark.
Burns was known as a prospect as he came through the ranks and partnered MacIntyre at Scotland Under-16 level when he was still at his original club of Williamwood in Glasgow.
"We've gone in slightly different directions since then," he laughed. "I think Bob's won nearly £1 million this year and I'm in the semis of the Scottish Am.
"I wouldn't change anything, though, he deserves all of it and I've taken my own path, I got my first class degree and now I've got myself a little time to have a real go at golf."
George has stayed in St Andrews helping run the University golf programme there and based at the new sports centre, while he joined up at Crail GS last autumn when his student privileges ended and "I just wanted somewhere to play while I'm here".
"It has helped this week being a member, for example the wind changed direction during the afternoon game against Marcus and from playing here I knew exactly what different lines to take and where to go."
Having eked out a narrow lead, he had to hole a couple of "clutch" putts of 10 feet and 8 feet on the 16th and 17th before two good shots to the heart of the 18th green finally broke Rickard's resistance.
Howie, the Scotland cap and younger brother of Challenge Tour pro Craig, will finally play in Burns a player that is older than him, and he's only 19 himself.
Howie beat a 14-year-old in the first round and two 17-year-olds, the morning win over Australian Louis Dobbelaar setting up a match with Scotland international teammate John Paterson of the New Club, also 19.
Paterson's missed putt for par at 17 proved the difference in a tight game where both players had a narrow advantage, but Howie was left as the probable championship favourite from the last four.
He took a step back from "focusing 24/7 on golf" by getting a job back home in Peebles and has found clarity when his mind does turn back to playing and practice.
Clark and former champion Callum Macaulay had a battle royal in their quarter-final, with the bank manager knowing he needed to offset his opponent's experience.
"Callum was the top end of the international team when I first got into it ten years ago and he was a far better player than me then," said Clark. "I knew today that with his experience and the level he's played at it was vital that I didn't let him get away.
"He eagled the first, but I birdied the second to get back to level and that was the way we played all afternoon."
When Macaulay birdied 17 to bring the match to all-square going down the last, Clark responded by hitting in to within ten feet at the last, the 2008 champion failing to get up and down from the front of the green.
Irvine, another 19-year-old, has made a strong comeback this season from missing much of last year – his last in boys' golf – with a back injury, and won the ranking Cameron Corbett Vase title at Haggs Castle last month.
He switched coaches to former European tour pro Alastair Forsyth last November, and is reaping the benefits of the three-time tour winner's expertise.
"Alastair's got a great knowledge of the golf swing, but it really helps to hear his experience and advice of the less technical stuff," said Irvine.
Irvine survived a sticky situation winning the last with a four in his last 16 with Scotland cap Jeff Wright before prevailing on the third extra hole, but had the most comfortable win of the quarters, birdies at 15 and 16 securing a 3 and 2 win over fellow Glaswegian Lachlan Reynolds
Third Round: Lachlan Reynolds (Hilton Park) bt Josh Greer (Joondalup CC) 2 and 1, Lewis Irvine (Kirkhill) bt Jeff Wright (Forres) at the 21st, Callum Macaulay (Ralston) bt Angus Carrick (Craigielaw) 5 and 3, Matthew Clark (Kilmacolm) bt Sean Marc (Broomieknowe) 3 and 2, John Paterson (St Andrews New) bt Connor Wilson (Castle Park) 3 and 2, Darren Howie (Peebles) bt Louis Dobbelaar (Brookwater G&CC) 1 hole, Marcus Rickard (Cupar) bt Michael Smyth (Royal Troon) 6 and 5, George Burns (Crail) bt Eric McIntosh (Brunstfield Links) 2 and 1.
Quarter finals
Irvine bt Reynolds 3 and 2, Clark bt Macaulay 1 hole, Howie bt Paterson 1 hole, Burns bt Rickard 1 hole.
Semi-finals: 8.30am Irvine vs Clark, 8.45am Howie vs Burns. Final 1.30 pm.