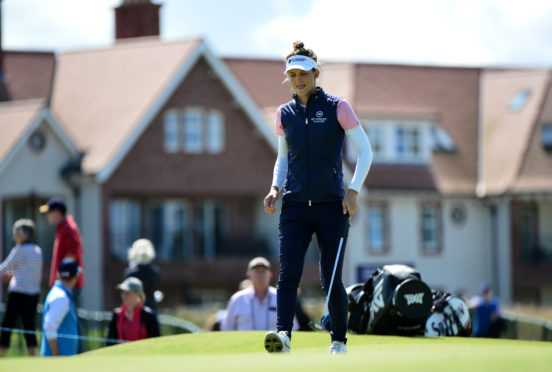 Even on a rare day of sunshine and reasonably clear skies, the Sword of Damocles that is the summer weather of 2019 was held precariously over the opening day of the Aberdeen Standards Ladies Scottish Open.
Such a maelstrom is promised for today that the course was set-up in preference for that – with a two-tee start, the tees have to be the same for the first two rounds, and it was arguably a wise decision to lean towards what is promised – rain for most of the day with winds gusting to nearly 40 mph – for the second day.
Thus a course reduced by over 1000 yards from what it was for the men's version of the Scottish Open four weeks ago proved ripe for scoring, but even those who exploited the conditions were far from happy.
The Netherlands' Solheim Cup hopeful Anne Van Dam had two eagles in one of three eight-under 63s returned on the opening day, but she wasn't at all thrilled by the course set-up, readily agreeing with the suggestion that it had been "disrespectful".
"100 per cent," she said. "I was talking to Suzann (Pettersen) about it, as well. It makes no sense why you should put two par 3s forward about 40 yards.
"You're talking about the best female players in the world. I don't think we need any short courses, not at all.
"If it's a day like tomorrow, when it's supposed to rain a lot, fine. I can understand some movements of tees.  But a day like today, all I can say, I'm just disappointed."
The 23-year-old from Arnhem is certainly one of the bigger hitters, and currently lies third on the European  points list for Catriona Matthew's Solheim Cup team.
That was maybe the reason she was paired with Pettersen, one of Matthew's vice captains and still apparently hopeful of playing well enough here for a place herself at Gleneagles, although she already has eight shots to make up on the Dutchwoman after 18 holes.
It didn't bother her – "she was one of my idols growing up" she said – and she just wants the race over with, as it will be on Sunday night.
"I'm just not really thinking about it," she said. "I'm actually glad it's the final week so everyone can stop talking about it and we actually know where it's at.
"Other players are out of my control. A lot of European players are playing well now, so I think that's only good.
"I'm not thinking, oh, they might pass me, all I can do is just focus on my game and try to get a Top-10 this week, only . Only Top-10 gets points, that's how I can guarantee my spot. That's all I can ask of myself."
One of those making the most of near perfect conditions for the early starters yesterday – the wind got up a little in the afternoon to keep the lead score from being challenged – was Jane Park, the American who had the heartbreak of being the one to miss out on qualifying for the Women's British Open last week when it came down a multi-hole play-off for one remaining place.
Park's husband Pete Godfrey caddies for reigning LSO champion Ariya Jatunagarn, and it was his birthday yesterday, so this was the biggest gift she could manage.
"I had a pretty crappy warm up this morning on the range and I just had a feeling, it's probably going to be a good day," she said.
"Whenever I have a crappy warm-up, you stop thinking about mechanics, you just go out and hit shots. On this course, you kind of have to hit some pretty good golf shots, and thankfully, I was able to do that today."
Park wants the weather to come in tomorrow because she thinks she plays better in challenging conditions, and the other co-leader, 2017 LSO champion Mi Hyang Lee, was no fear of the wind and rain either.
"I live on an island in Korea, so it's always windy over there and I always like practice to the lower shot," she said, recalling the 66 on a blustery and wet day in the final round at Dundonald two years ago that saw her win the title.
"I really love to play Scotland and British Open, also. I think that is like a lot of help for golf in it's so windy here."
Ariya Jatunagarn's sister Moriya is in third on seven-under, with several more of the Korean contingent, including US Open champion Jeongeun Lee6 four shots off the lead.