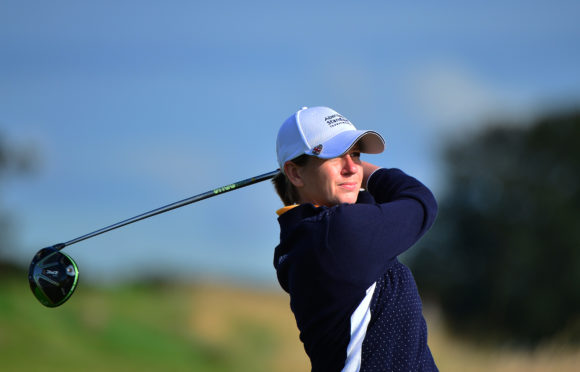 Contemplating a second shot out of a bunker at her first competitive hole of golf for 20 months, Pamela Pretswell Asher was thinking "maybe I should just pick up…."
However the Scottish professional, making her return from "maternity leave" at the Aberdeen Standard Investments Ladies Scottish Open, soon put the negative thoughts out of her mind after holing out for an opening double-bogey and got down to compiling a hugely creditable two-under 69.
"I thought I'd get all the drama out of the way as quickly as possible," she laughed after completing her first competition round since her daughter Kirsty was born. "I was more nervous than I realised, when I handed my driver back to (husband and caddie) Ryan after the first hit my hand was still shaking."
But after getting the "dream lie – absolutely not" in a greenside bunker at her first hole and taking two to get out, Pamela barely put a foot wrong, taking advantage of the par fives and playing four-under golf the rest of the way.
"I was reasonably calm because I've been playing pretty well in practice, and after the first hole I just kind of hung in there, and had a pretty solid front nine after that.
"As Ryan was saying it was probably a pretty good thing for me to get the rubbish and drama out of the way first and play pretty much stress-free."
And, she added, it was a joy to be back playing competitively "in such beautiful weather, on such a beautiful course".
"I felt I was able to hole a few putts today I just wouldn't have been able to hole before," she said. "This is my best score by far in a LPGA sanctioned event so maybe I should have had Kirsty a while ago!"
Pamela is still unsure whether she'll return to professional golf and she certainly won't have a full-time schedule.
"Oh, it absolutely still is `see how it goes'," she said. "I was thinking in that first bunker especially.
"The last competitive round I had was December 17 2017, so I think I would have been nervous had it been a club medal, much less the Scottish Open.
"Kirsty's with my mum and dad and Ryan's on the bag so everybody's good. It's great to go out and play and then come home for cuddles."
Kylie Henry and Carly Booth both shot one-under 70s, and there was a strong home showing from Catriona Matthew, playing close to home, returned a par 71 to lie two behind Pretswell Asher.