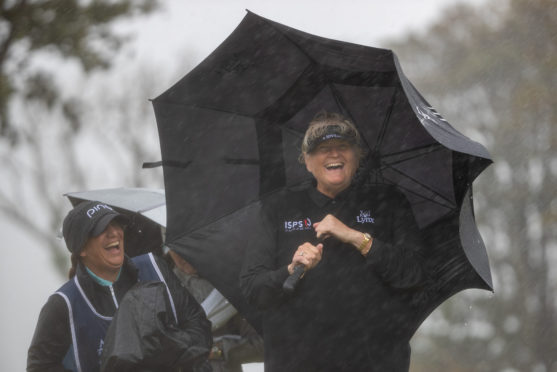 The Dame looked like she'd been standing under a shower for four hours, and as her umbrella gave up the ghost early on yesterday, that wasn't far wrong.
But Laura Davies, having missed 11 cuts in a row making many consider that her plain-speaking role behind the microphone was going to become a full-time gig, still has a little left in the tank.
Dame Laura had her 12th hole-in-one and – officially – the second-best round of her legendary career in the storms of the second day at the Aberdeen Standard investments Ladies Scottish Open at the Renaissance.
It was a three-under 68 in simply brutal conditions, compiled in the worst of the weather before they belatedly decided play couldn't continue at 1pm. After the restart two and a half hours later sideways rain became warm sunshine and complete calm in the space, it seemed, of a couple of minutes.
That meant those players starting their second rounds after the delay enjoyed the same kind of advantage they had from Thursday morning's perfect calm, and as a result there was a clear separation of the field.
That didn't quite explain how Korea's Mi Jung Hur – runner up to compatriot Mi Hyang Lee at Dundonald two years ago – torched the course for a 62, to claim a commanding lead at -14, two ahead of Thailand's Mariya Jutanagarn and four ahead of Anne Van Dam, the co-leader after 18 holes.
The contrast in conditions can be the fortune – or misfortune – of seaside golf. It'll be a level playing field in the forecast steady rain for today, with a little of the second round to be completed.
But for Davies, now 55, it was confirmation that she can still mix it, especially when conditions become as difficult as they were yesterday.
"This is my 12th LPGA event and I missed the first eleven cuts. So to make the cut, I know it sounds pathetic at this stage of my career but I'm really pleased," she admitted.
"The reason I'm here is because I still think I'm decent, and I think today proves I can play. "Last week (at the Women's British Open) finishing stone last in a field of 144, that's the first time that's ever happened. So you doubt yourself a bit, but I know the good shots are there."
She wasn't even distracted by a difficult umbrella – "I couldn't battle the brolly anymore, it kept breaking and smashing us in the face. It was getting quite ugly out there, so I just got soaked instead."
The hole-in-one was a wedge at the fifth that just kept rolling and rolling, but the round as a hole is marked quite high on her career list.
"It's probably the second-best round I've probably ever shot," she said. "I had a 6-under 66 in Canada years ago in similar conditions but that's as close as I can get to it.
"That was the year I won the du Maurier Classic (a now-defunct women's major). It was 1996. It wasn't raining so much but it was really gale of a wind and it was a really tree-lined course, so I always say that's my best-ever round."
As Greg Norman and Tom Watson have proved in the Open, a wise old campaigner has a shot or two for such conditions as the front end of the field faced yesterday. Dame Laura struck "10 or 12" knock down shots under the wind, quite a few with a one-iron, a club not seen very often in the women's game (or anywhere else in pro golf really).
"What can you do but smile?" she said. "You know links-style (turf) is not going to flood. You're just out there and it's batten down the hatches and hope the caddie can keep the clubs dry. Between us we managed that well.
"People say, `oh, should you give up and commentate, you're a rubbish golfer now,' but I still know I can hit shots and play like that. I've just got to do it and prove it, and that's the only thing."
Mi Jung, playing the back nine first, returned a colourful card with just one par for her first nine holes, starting with three threes, the last one an eagle, to immediately jump into a share of the lead.
Bogeys are her fourth and sixth holes were immediately righted, and after going out in 31, the tall 29-year-old started back with three birdies and added another as she played her second nine without a bogey.
The next best return for the afternoon and evening play was Na Yeon Choi's 64, the 2012 US Open champion jumping up into the top ten as a result.
There were encouraging returns from two of Scotland's young pros, Carly Booth putting together a season's best 67 to move just inside the top 15 alongside Georgia Hall, while Kylie Henry was at three-under for the day, four-under for the tournament playing the back nine when darkness stopped play.