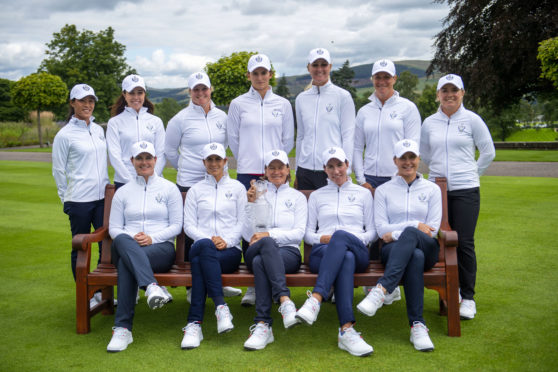 Suzann Pettersen had three words for those who think Catriona Matthew has made a gamble in selecting her for the European Solheim Cup team next month – "Bring it on".
"I was born for this," said the combative Norwegian after Matthew unveiled her as one of four wildcards for the European team trying to wrest the cup back from the USA at Gleneagles.
Matthew selected Bronte Law, Celine Boutier and Jodi Ewart-Sadoff as three picks most suspected, but has gone for Pettersen despite the fact she's played just two events since giving birth to her son Herman exactly a year ago, and missed the cut in both, most recently at last week's Ladies Scottish Open.
There is no question that Pettersen's experience – this will be her ninth appearance for Team Europe – is a major factor in her selection.
But allied to her lack of tournament play in the last 18 months, her last appearance in the event was hugely controversial.
In Germany four years ago, her stance of insisting she had not conceded a tiny putt in a fourballs to the USA's Alison Lee and claiming the hole caused a furore throughout the game.
Accused of bad sportsmanship and an action contrary to the spirit of the Solheim and golf, she later apologised, but not until after the USA had rallied in the singles to regain the cup, fuelled by a sense of injustice from the incident.
Pettersen was selected but had to withdraw with injury at the 11th hour before the last Solheim Cup in Des Moines two years ago, being replaced by – of course – Matthew, who had been one of Annika Sorenstam's vice-captains.
Pettersen was pencilled in as a vice-captain herself for this year's matches until Matthew played with her in a pairs event on the LPGA Tour last month.
"It's not a gamble, not at all," said the Scot. "I am 100 per cent confident in that pick.
"Suzann brings variations in partnerships, she can play in either format (foursomes or fourballs). That experience, knowing I she can step up in the heat of the moment, means I can rely on her."
Matthew said she hadn't considered Pettersen in a playing role until she played with her in the pairs event, where they missed the cut.
"She had been humming and hawing about whether she should come back and play," continued the captain. "It's life changing when you have a baby, your priorities change, so you are slightly concerned when you come back whether you will still have that drive and competitiveness to want to compete at that high level.
"But I could see instantly that, once she got back on the golf course, she was ready to play."
Pettersen didn't disagree it was a gamble to select her, but she is more than willing to roll the dice.
"Bring it on, I can't wait to get started," she said. "This is different than any other week. A captain's pick is a captain's pick. Sometimes you don't always have to (choose) off the rankings.
"Obviously Beany's gone a little bit out of the way to put me on the team. I'll take that pressure. I told her I'd be prepared, I know what's going to be asked of my game and I said, if I felt my game wasn't not fit I'd have told her `pick someone else'.
"When you feel like your game is there, and if she wants me to, then I'm more than happy to take it."
Pettersen's experience may be what Matthew's looking for, but the player believes her game elevates in this scenario.
"I guess I can add some experience, but I also love the Solheim Cup, my best moments in golf have been in the Solheim," she said.
"Every single one has been different. Beany has pretty much been on every team that I've played on, except the one when she was giving birth to one of her girls.
"We talked about it quite a lot when we played together and I think she realised my game was a lot better than she expected it to be!
"That's kind of when I had reschedule my plans for the next few weeks."
As for the incident four years ago, she had learned from it, she said.
"The Solheim is so intense, it is a lot of pressure," she said. "You are right there in the heat of the battle. I think what happened in Germany was very unfortunate at the time.
"I have obviously learned from it. In the heat of the moment, my head wasn't thinking clear enough to be able to change what happened there and then. I don't think anyone else was either until they had some time away to be able to think more of it.
"I don't want any other players to go through what I ended up having to go through. But, if there was one player who could probably take that load, I was probably the one on the European team.
"It was tough, but what doesn't kill you makes you stronger."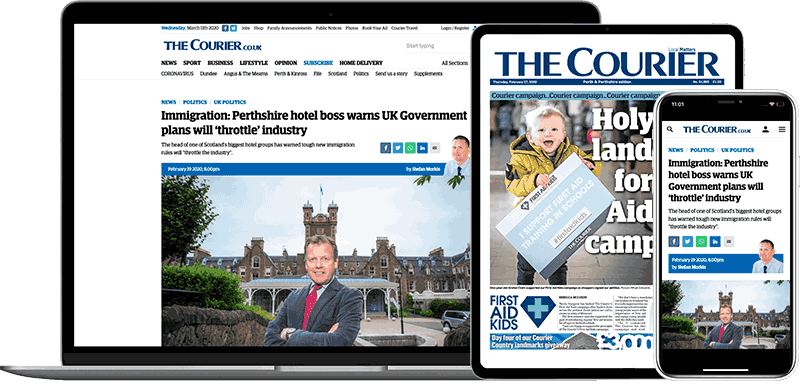 Help support quality local journalism … become a digital subscriber to The Courier
For as little as £5.99 a month you can access all of our content, including Premium articles.
Subscribe