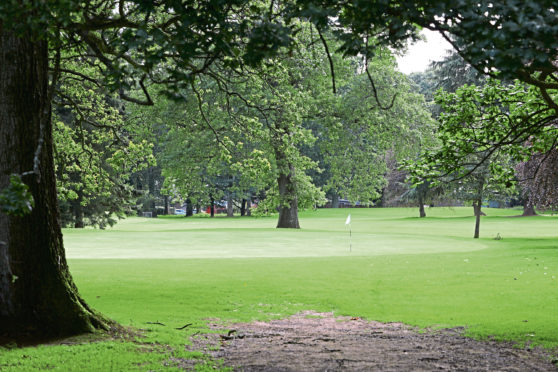 Camperdown Golf Course, which is now officially earmarked for closure next year, is where many of us from Dundee learned to play the game.
At least that's what I'm hearing from all parts. Personally, my formative strokes in my early teens were on nothing quite as challenging as what is easily the city's better municipal course.
I, and my friends, learned how to get the ball airborne on the two Caird Park nine-holers, the Red and the Yellow, as they were in the late 1970s and early 80s.
With our precious council golf tickets, we moved from there to the big Caird Park course once we were halfway decent – still loads of room on Cairdy for frequently errant shots – and, occasionally if we could get a time, to Camperdown, where things were a bit tougher.
But that's if you could get on. In those days Campy was packed with players, every day.
Who were they? Educated guesswork assumes many were factory workers, most likely from two of the city's last manufacturing industries, NCR and Timex. Both happened to be sited close to the course and therefore perfect for a quick 18 before a backshift.
Of course Timex is no more, NCR employs far fewer than it did and there's hardly any manufacturing industry in the country, let alone Dundee.
Whatever theory you have for this happening and if you find it regrettable, one sympathises, but it's still reality and we're not going back.
Times change, the environment changes, and what appears to be a comfortable world like my generation's nostalgia for Campy and muni golf in Dundee, also changes.
Municipal golf in our time was perfect for those who wanted to play golf but couldn't afford the memberships or green fees at private clubs. It swept up all the occasional and casual golfers, and all of the beginners.
But as participation dwindled and club membership with it – largely the fault of golf's own outdated traditions – private clubs slashed their green fees.
Even those not suffering financially found they could maximise their property by selling the tee-times their members didn't want.
Clubs who previously had their doors firmly shut to visitors swung them open, selling their product through cut-price deals through agents and magazines.
The beginners went to the boom of the driving range market. The casual and occasional golfer wanting 18 holes didn't have to go to the muni anymore. Indeed, it is now actually way cheaper to shop around.
Scotland's chronic over-provision of golf courses – we have more per head of population than any other country in the world and it's not even close – in a time of falling participation means it's inevitable there will be a cull, with market forces dictating.
There have been a few private closures in the last couple of years – Mount Ellen in Glasgow just last week was the latest – but municipal golf seems to be taking the biggest hit first.
The numbers playing at the two Dundee municipal courses seem to underline this. Camperdown Golf Club has just 90 members, Caird Park the same or even less. The rounds-per-year numbers have plummeted on both tracks.
Could they have been marketed better? Probably. But I'm very sceptical about the idea that Dundee could have become a tourism golf hub, with St Andrews, Carnoustie, Blairgowrie and Gleneagles already well established as such within an hour's drive. Campy, as good as it is, isn't really in that calibre.
It's easy to understand the disappointment and even the anger of many. There have been thousands signing a petition calling for a reprieve.
How many of those thousands, however, and those who have come over all nostalgic about Camperdown, have actually paid their money in recent years and played it? Clearly, not enough.
I've heard a few fanciful notions that the city council have intentionally "run down" the courses to make this decision more politically acceptable.
In the real world, the council reduced green fees in the faint hope of competing with £12-£15 a round being offered by the agencies and the vouchers in various publications. It didn't work.
They have made enquiries to find out whether anyone would take Campy on. There's been no takers.
In the end, nearly £500,000 of annual subsidy for municipal golf in Dundee is unsustainable at any time, much less in a time of austerity and budgets cuts for more essential public services.
Most golfers would clearly prefer Campy if there is only to be one municipal course in the city.
But there's not really a choice – sports provision in the city is being focused on the new £32m Regional Performance Centre at Caird Park, and it makes financial and logistical sense for all of the golf to be there too.
This isn't in support of the council, or the market forces that dictate this and more golf courses will close.
It's more a recognition, sadly, that losing local treasures like Campy has become unavoidable through the sport's own complacency over decades.