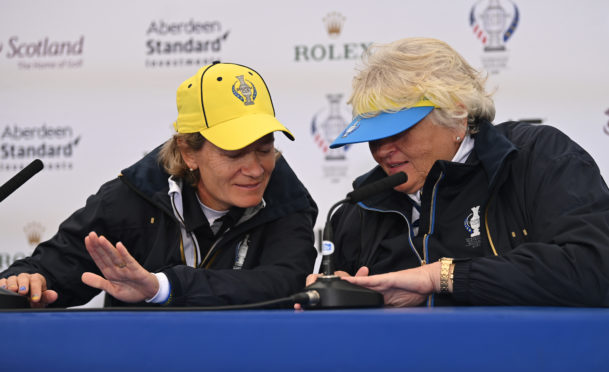 Catriona Matthew's ever-calm exterior – vital itself in a high-pressure situation like a Solheim Cup – disguises as tough a competitor as there is in world golf, believes Dame Laura Davies.
Matthew's European team are now bedded in at Gleneagles, looking just as resplendent and beautiful as it did for the men's Ryder Cup five years ago. The host captain for the matches against the USA seems to have everything the way she wants it, but in the team room, she's adopting a laissez-faire attitude.
"To me it's just her calmness," said Davies, the totem of European women's golf.
"Beany has always been like that. She's a fierce competitor, make no mistake about that, she wants to win this more than any of us. She's put a lot into this the last two years.
"But she never shows anything, she's just calm and cruises along. (Husband) Graeme obviously keeps her calm as well, he's also a very placid character. But behind it all, both fierce competitors, I think that's a great combination."
Rookies Anne Van Dam, Bronte Law and Celine Boutier concur with that, feeling their captain's trust in the qualities that brought them through qualifying to be here.
"She trusts us just doing our own thing," said Van Dam. "She said, you guys don't need that much, I believe in you, the whole team believes in you."
Law, who despite being a rookie is being looked on as a cornerstone figure for Europe given her recent record in team and matchplay golf as an amateur, added "She doesn't over-talk or arrange loads of team meetings or stuff like that.
"She gets to the point and says what needs to be said in as few words as possible. And that's something that a lot of great captains have as qualities."
Motivation is a given, said Matthew, but they were able to give it a little shove along on Monday night with video in the team room featuring messages from loved ones, compiled without the knowledge of the captain or team members.
"They don't really need a ton of motivation," said the captain. "But it was nice, all the players' families giving good luck messages to them, which none of them knew about.
"It was a big surprise and a few tears shed were in the room. I think it was a nice one."
According to Van Dam "everyone in the room was crying", but Law demurred. "I don't cry", insisted the tough young Englishwoman.
For Matthew, captaining and winning a Solheim Cup on home soil would be the pinnacle of her career, above even her Women's British Open title.
"I've always loved the Solheim Cup, it's been the highlight of my career every two years when it comes around," she said. "To be a winning captain at Gleneagles in Scotland would rank just about above my British Open win.
"But at the end it's the team result. I struggle to remember my individual performances in some of the Solheim Cups, you just remember whether the team won or lost.
"One of my best memories was in Colorado (in 2013), I wasn't playing on a Saturday afternoon, neither was Suzann (Pettersen), we were sitting at the 18th green watching the girls come in and winning."
Davies has never wanted to be European captain, but lends her formidable personality and experience to the team room – "What doesn't she bring?" asked Law. "She's obviously one of the greatest British golfers to ever step foot on these grounds."
Both Davies and the rookie think that the USA's favourites tag is at the very least worthy of a wager.
"I think we're two to one outsiders, which I think is a good bet because our squad, as Beany said, is really strong," said Davies. "I think home soil, and it possibly being a bit chillier here, also evens it out a bit.
"It will come down to Sunday afternoon; it always does. And I think we've got the right players that can step up and do the job under the most extreme pressure. I think we've got a great chance."
Law agreed: "I'd love to know who said that we weren't favorites.
"We have our home course advantage. We've seen the course before this week. We have a lot of players that are playing really good golf right now.
"So I'm not sure what sort of information they're getting. But that's interesting."