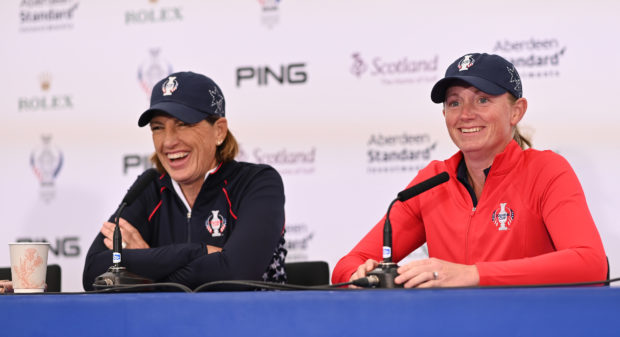 Captain Juli Inkster saw an already raw US Solheim Cup team get even more inexperienced overnight, but typically sees it as positive challenge rather than a disadvantage.
Former Women's British Open champion Stacey Lewis, picked as a wildcard largely for her experience in a team with five rookies on it already, has a back injury and tearfully pulled out yesterday after giving it a go for a few holes on Monday, although "everyone" knew it was inevitable she couldn't play.
Ally McDonald was brought out at the weekend as Lewis' participation was already in doubt, and becomes the US team's sixth debutant at Gleneagles.
Inkster picked two rookies in her wildcards two years ago in Des Moines, when her team ultimately won the cup for the second successive team. She doesn't outwardly feel any less confident going for a third win, this time on Scottish soil.
"I think if you're a rookie, I think it's a lot easier to play away your first Solheim, because you're really not expected to win and you can go out there and play a little looser," she argued.
"It's easier to bond over here; you don't have a lot of outside distractions.
"It's a crapshoot. They could play great or they could not play great. But I'm going to send a couple rookies out there together, they've got to grow up sometime.
"Everybody's a rookie once, and I just happen to have six of them. They all qualified, they all deserve to be here, so we're just going to throw them out there."
Lewis gave Inkster plenty warning her back might not hold up and McDonald got her caddie out of a fishing trip in isolated Montana to get to Gleneagles.
"It's a hard decision because I picked Stacy as one of our leaders, and I really wanted her to play," said Inkster. "But I feel like I really have the best of both worlds right now; I've got a healthy player and I have Stacy helping us out."
Lewis, who won her WBO in Scotland at St Andrews, admitted it was "really, really disappointing".
"This is my favorite tournament we have, and (the atmosphere on) that first tee, there's nothing like it," she said. "I'm just so disappointed I don't get to hit that shot.
"But I can't go out there to just "try" on Friday. I don't want to put Juli and the girls into a situation where they've got 11 on Sunday, because Sunday is the most important day of this entire week."
Inkster admitted that the call to McDonald to tell her she hadn't made the initial cut for the team was the hardest, and that the player had an "emotional" reaction, but the 27-year-old was geared up in any case.
"I was kind of aware coming into the week, what kind of position that I was in and how Stacy was doing, so I came in mentally prepared to step in as a player or even as a cheerleader," she said.
"I'm just excited. Obviously I didn't want it this way. And hopefully Stacy gets better ASAP, but I'm excited to be part of the team and hopefully I can contribute a lot."