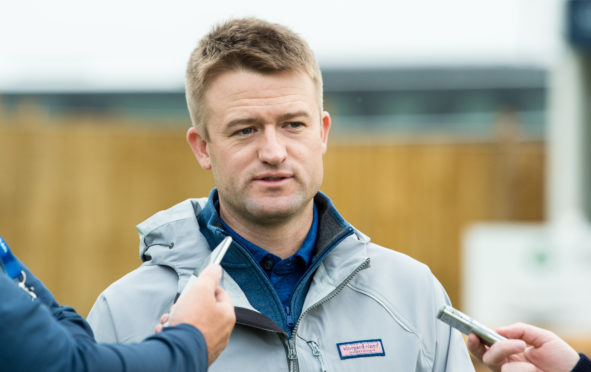 He has been a professional for over a decade, won big tournaments on both sides of the Atlantic and carried the tag of 'Scottish number one' for a few of those seasons on tour.
But this week is Russell Knox's debut Dunhill Links.
Even at 34, you're not too old for a career first.
"I said to my wife when we got here and were walking around the town that there are very few places that we have ever travelled to that have the aura of St Andrews," said Knox, who starts his Dunhill at St Andrews today.
"Even if you are not a golf fan something about it seems very special.
"If you are a golf fan then it is heightened 100 times.
"It is a very cool place.
"Obviously being Scottish and a professional, it is extra special."
Knox might not be used to the expectations of being a 'home hope' at the Dunhill but he has had plenty of experience of that for two weeks of the year in July.
"Everyone would love to win in their home country," said the Florida-based Scot.
"I have had a couple of decent efforts at the Scottish Open.
"This is my debut in this event so it would be great to play well.
"I have heard it is a nice, relaxing week and sometimes that can bring the best out of a golfer.
"Hopefully that will be what happens with me."
Knox has relatively fresh memories of competing at one of the three venues, Carnoustie, at last year's Open.
"I'm sure it will be completely different from when I last saw it," he said.
"From watching this tournament in the past, if the weather isn't terrible then the scoring is good.
"You can get at Kingsbarns and the Old Course if you are playing well.
"Carnoustie is the same. It is not going to be set up anything like it is for The Open.
"It is going to be green rather than brown. I'm looking forward to it.
"It is three very famous courses and I would love to give it a go."
Meanwhile, not only is this Jon Rahm's first Dunhill, it is also his first experience of playing St Andrews.
For some the Old Course proves to be an acquired taste. Not for the world number five.
"It's great to be here," said the Spaniard. "I've been looking forward to this day for a long time, and it was really nice to share that moment with my parents. I'm really looking forward to start the tournament.
"The golf course is great. Very different to all the other ones. On paper, it's not the most difficult one, but it can be tough. I don't think it can play more difficult than it did today but it's a great golf course.
"I guess a lot of the people have a problem with the blinds shots but I don't mind blind shots.
"You can just feel it's a great atmosphere around this town related to golf. It's really fun to be here. Hopefully I can have a good showing."