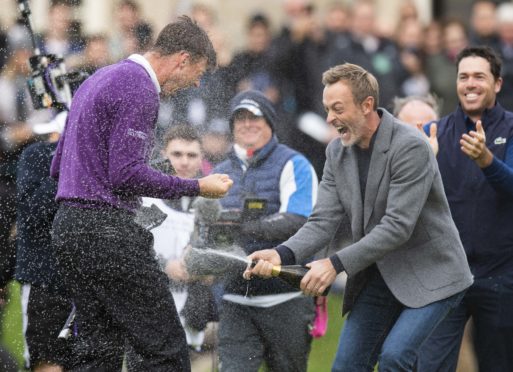 For the traditional Swilcan Bridge trophy pictures the organisers missed a trick by not getting Victor Perez to sit on a bucket.
He was subjected to the traditional Champagne dousing on the 18th green that marks a French victory on the European Tour but Perez's Alfred Dunhill Links triumph was as near to a Dundee one as the championship has known in its 19-year history. And is ever likely to see.
Perez, who held his nerve in a last group battle with Matthew Southgate to win by a shot on 22-under par, has based himself in the city with his Dundonian dental student girlfriend for over a year.
Practicing at Ladybank, Drumoig and Panmure has helped the 27-year-old claim his maiden tour victory and move into 67th in the world rankings.
The first rookie to ever win the Dunhill said:  "Obviously living in Dundee 20 minutes from here makes it more special. I think it's a great advantage, being able to have all the little things that people don't necessarily see. For a professional golfer, sleeping in your own bed is a massive thing for rest and recovery.
"There were a number of reasons why I came here. I think that the culture of golf in Scotland should make almost every golfer want to come here, if you're in Continental Europe.
"The people here live golf. It's all about golf. It's just the passion for the game. Golf is my life. I felt like I needed to be around a culture that would cherish that. To perform in golf, I personally believe that it was better for me to come."
On making best use of all the golfing opportunities the local area offers, Perez explained: "I get to practice at Ladybank. It's a great course. It's always in great, great shape. Generally I can play in the afternoon and do my work in the morning.
"I work at Panmure quite a bit. Andrew Crerar over there, the head pro, has been fantastic with me, allowing me to practice. And then I go to Drumoig. It's right across the bridge from Dundee. I can get a round if in quite quickly.
"You can get your confidence up and feel like you can make a birdie on every hole which is nice every once in a while!
"And I come here to the academy at St Andrews  if I'm going to work on my short game."
Southgate himself has local connections. The Southend-on-Sea man is a Carnoustie member, having travelled north on many occasions with his dad to play in the Craw's Nest Tassie.
He pulled two shots clear at one point but a pair of bogeys on the back nine cost him in the end – the second one as a result of missed six-footer on the 17th.
A serious challenge from beneath them never materialised and Perez held his nerve with four finishing pars.
Southgate said: "It's a difficult one to swallow, just losing by the one shot. But overall, it's been a fantastic week. Victor played fantastic all day, and I'm chuffed to bits coming second to such a great bloke, really. We went sort of hammer-and-tong at each other. There has to be a winner, and it was always going to be by a fine margin."
The McIlroys fell just short of the finish they had been hoping for.
Pre-event, Rory said that winning the team event with dad Gerry would be more special than individual glory.
Father and son tied Tommy Fleetwood and Ogden Phipps' 39-under total. In those circumstances the final round score of the pro settles the contest and in this case it was Fleetwood's 64.
McIlroy said: "We came really close. We thought we did enough in the end, matching the 39-under. But then we found out that it was the pro's score on the last day which was the decider and obviously Tommy had a great round today. We gave it our all. We had a really good time. It was such a fun week. It was great to see my dad play so well."
The wait for a title on Scottish soil goes on after his tied 26th finish in the main event.
McIlroy, who had previously pointed out that Carnoustie has become an easier challenge of late, said: "I'm sort of honestly sick of coming back over to the European Tour and shooting 15-under par and finishing 30th.
"I don't think the courses are set up hard enough. There are no penalties for bad shots. It's tough when you come back when it's like that. I don't feel like good golf is regarded as well as it could be.
"It happened at the Scottish Open as well, Renaissance. It's not a good test. I think if the European Tour want to put forth a really good product, the golf courses and set-ups need to be tougher."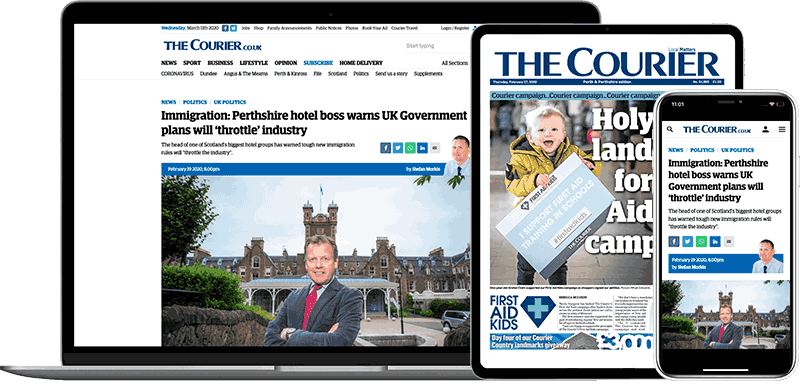 Help support quality local journalism … become a digital subscriber to The Courier
For as little as £5.99 a month you can access all of our content, including Premium articles.
Subscribe