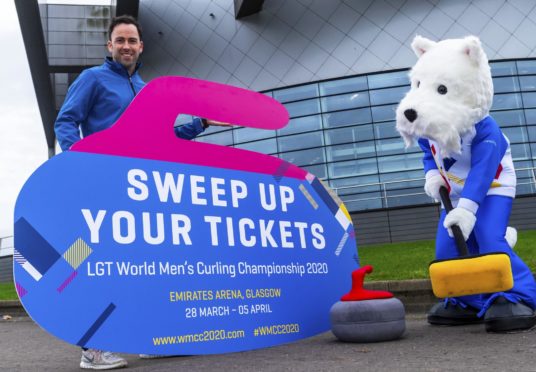 David Murdoch's curling wish list didn't have many boxes left unticked when his playing career came to an end.
But in 50 days' time a quartet of Scots will get an opportunity that never came his way – competing at a World Championships on Scottish ice.
Murdoch, who twice won the Worlds as a player, is now the sport's national coach.
And he has stressed to the eight teams seeking to become Scottish champions at Perth next week that there will never be a better year to qualify for the biggest annual event on the curling calendar.
"It's such a unique and exciting prospect," said Murdoch.
"Glasgow is a huge sporting city and we've seen how the people have got behind other big sporting events there in recent years.
"The Scottish always comes with a lot of pressure – the winner gets to say they are the best in their country and gets a place at the Worlds.
"And this year there is even more at stake.
"A Worlds on home ice hasn't happened for 20 years and might never happen again for these guys.
"To be the Scottish team competing will come with immense pride.
"For me, as national coach, to see the teams put under this sort of pressure and to see how they react to it is a good thing.
"The depth and competition that we have is the important thing for me.
"A competitive national championship and all the time they spend on tour raises standards.
"It's changed days.
"The more you play against the best, the better you get."
It would be a surprise if the eight teams in the men's field at the Dewars Centre in Perth provide anything other the most competitive national championships in a generation.
"It's going to be very interesting," said Murdoch. "There is real strength in depth.
"We've got five programme teams. Team Mouat are the defending champions and won the Perth Masters recently so they will probably be the slight favourites.
"Team Paterson have won a grand slam event this season, Team Whyte are a young team on the rise, Team Muirhead are the 2018 Olympians who are on home ice and Team Bryce will be strong as well.
"The top teams are out on tour much more regularly than they were in my day.
"At the moment we've got three in the top 20, two in the top 10 and Team Mouat are number four in the world.
"That shows that good things are happening with our programme. We're in a pretty good spot just now."
Murdoch expects the Worlds at the Emirates Arena to be the perfect showcase for his sport. Hopefully it will also inspire some new curlers, with hundreds of tickets being given free to school children.
"This will be the first time we've had a curling event at the Emirates and hopefully people will come out and buy tickets," he said.
"You get the chance to get really close to the ice and interact with the curlers.
"Curling has a fantastic following in this country but for big events like the Olympics and Worlds you get people coming for the first time. It's a unique atmosphere.
"There are 20 rinks across the country so there is an opportunity for people to try the sport after the championships if they're new to it."
Murdoch is one of Britain's most decorated curlers and rating his Worlds golds against his Olympic silver is like choosing a favourite child.
"It's a really tough," he admitted. "I've probably not given a lot of thought to comparing them.
"For the Olympics, I know how many years it took to get my medal. I wanted it for a long, long time. That was extremely satisfying and emotional.
"I know how hard it is to win a World Championships as well. You're playing the best in the world, as you would at an Olympics. They're all really special memories for me."
National and World Championships are occupying Murdoch's thoughts just now but it won't be long before the 2022 Winter Olympics and, more specifically, British Curling's selection policy for Beijing becomes the primary focus.
"We're discussing that at the moment," he said. "We'll look at what we've done in the past and what other countries have done.
"Hopefully we'll publish that policy soon.
"This is the first year that Olympic points are up for grabs, which gives extra importance to the Worlds."
The men's and women's Scottish Championships get underway on Monday at the Dewars Centre in Perth. Tickets for the finals next Saturday are available at https://www.eventbrite.co.uk/e/scottish-curling-championship-finals-day-2020-tickets-84719936611
For information about the World Championships (March 28 to April 5) and to book a seat, go to https://wmcc2020.com/fan-packages-and-tickets/