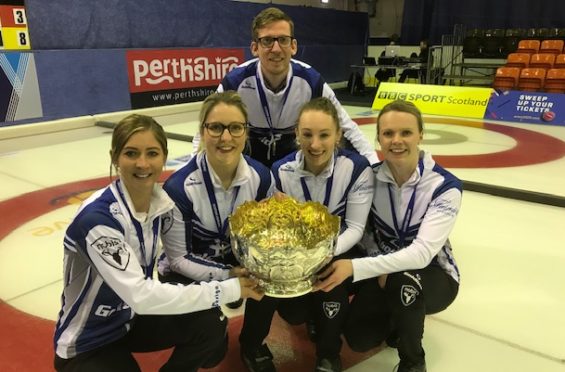 Eve Muirhead will never take for granted the feeling of being crowned Scottish champion.
The former Olympic medallist, world and European champion now has eight national curling titles to her name.
But the fact that career-interrupting hip surgery meant she has had to wait three years for the most recent one on Saturday has reminded the Perthshire athlete what it means to be the best in your country in your sport.
Muirhead skipped her team to an 8-3 win against Team Wilson in the final on home ice in Perth and admitted that the thought had crossed her mind she may forever have been stuck on seven domestic successes.
The 29-year-old, who has been the dominant curler in the sport in Scotland for a decade, said: "It feels really good and probably just as good as the first, pretty special in its way because it's the first one since my surgery and there are times after that when you're wondering whether you're going to be at the top of the podium again.
"For us to come out this week and stay really strong as a team and as a unit, putting together the performances we did, I'm really proud of the team and myself for being able to do that."
Team Muirhead's Scottish triumph qualifies them for the Worlds in Canada in the middle of March, giving them the opportunity to improve on the silver they won at the Europeans earlier in the season.
"Our silver at the Europeans was a great medal for us," said Muirhead.
"We played some cracking games over that week, lost with the last stone of the final, which was gutting at the time, but we looked back and realised we are a team that's building and we want to be strong in 2022.
"To represent Scotland at the World Championships again is going to be great and Canada's a country you always want to go to for the Worlds, while we're also looking to bank up a few Olympic points.
"It's very important to do this in the middle of an Olympic cycle. We still want to be the team going to the Olympic Games and obviously we don't know the selection process yet, but of course this can also give us one foot forward when you win a Scottish title, so that was important. However, we just need to keep delivering as a team and that's all we can do."
New coach Kristian Lindström has had an instant impact.
"Kristian's been a great addition to this team," she said.
"He used to be a very high class curler in his day and he still plays a bit of mixed doubles, so to get his knowledge and expertise shared with us has really helped. We're going to work hard with him the next few weeks."
It wasn't a Muirhead double at the weekend.
The team of Eve's brothers Glen and Thomas and Kyle and Cammy Smith lost the men's final to Team Mouat.
It completed a hat-trick for Bruce Mouat, who now has the honour of representing his country at a home Worlds in Glasgow next month.
The Edinburgh skip said: "It's hard to put it into words.
"The first one was really special, getting to go to our first World Championships, then the second one was special because we got to go to Canada and play there, which is always something you aspire and then getting to play a home one is the cherry on top."