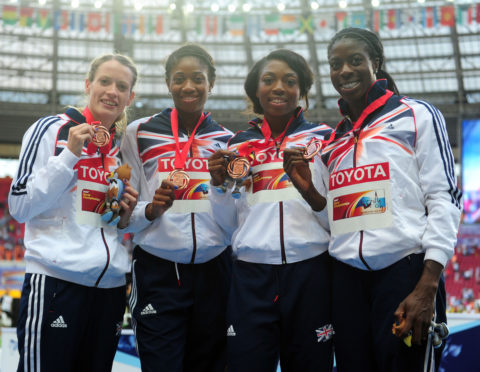 Even before the coronavirus pandemic decimated the sporting calendar, new mum Eilidh Doyle suspected that 2020 would be a medal-free year.
But a special delivery from her postman brother a few weeks ago proved her to be wrong.
Jamie Child arriving at the door with her mail is a daily occurrence for the 400 metre hurdler now that she has moved back to Kinross-shire.
But the content of the package he was handing over to his sister in late February was far removed from the normal bills and bank statements.
The precious cargo was an engraved silver medal from the Moscow 2013 World Championships for the women's 4 x 400m relay.
Doyle already held a bronze from the event but the Great Britain and Northern Ireland team – which also featured Shana Cox, Margaret Adeoye and Christine Ohuruogu –  had been upgraded to second after a drugs violation by a member of the host Russian team.
World Athletics continue to re-write results after doping offences are discovered and the former Perth Grammar School teacher is convinced that the reallocation of medals must continue in the fight to identify cheats in track and field.
"The Worlds silver medal from Moscow 2013 coming through the post earlier this year was a special moment," she recalled.
"It was only four weeks after I'd given birth to Campbell and there was me thinking I probably wouldn't win any medals in 2020!
"I knew the result had been changed but there had been no notification the medal was on the way to me so it came out of the blue. I'd had no message that they wanted the bronze back, for that matter.
"My brother Jamie is the postman where we live now so it was a nice surprise when he came to the door with a package and said: 'I think this one might be a medal'."
The Pitreave AAC athlete now has a silver to go with a bronze from Moscow and she admitted she would have been reluctant to part with the original medal given its sentimental value.
"I would have had real mixed feelings if asked to return the bronze, to be honest," she said. "It was my first global medal in an outdoor champs – after doing well at the European Indoors earlier in that year.
"The Moscow 2013 bronze is engraved with my name and our time so I am not sure if it works for another team!
"In Moscow that day we made the podium, did the lap of honour and managed to get photos with Usain Bolt. So there are some very special memories attached to that one. Obviously you don't always get that in these reallocation situations.
"But I was still pleased to get the silver. We earned that one. Cleanly. It's belated, of course it is, but they have to keep righting these wrongs. I've seen the likes of Lee McConnell and Nicola Sanders getting re-allocated medals at special presentations like one in the London Stadium and at Glasgow 2019 and their kids have been able to enjoy the moment with them.
"It isn't the same, and you cannot recreate the original moment in time, but it is right that we acknowledge and celebrate medals won by fair means. I think that is important.
"Lee has mentioned that of course you lose out on status, sponsorship and finance by the original cheating and that's very true. Those moments have gone and a newly allocated medal is only consolation for that, I guess.
"But we just have to hope the more governing bodies keep doing them the more cheats are weeded out and the right results go in the history book. That's important for assessments on an athlete's career."
*Doyle has been working closely with LifeFit Wellness, based in Falkirk and Linlithgow, through her pregnancy and now since the birth of Campbell to constantly analyse and re-assess her return to fitness.