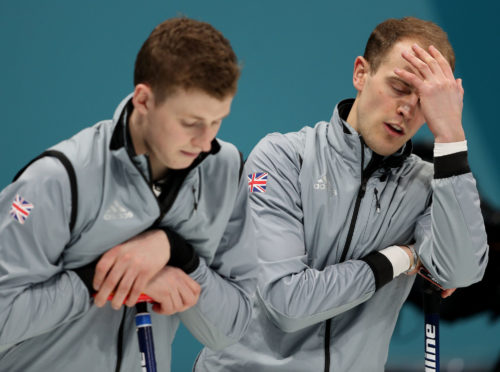 The Muirhead and Smith brothers have been axed from British Curling's elite programme for next season, Courier Sport can reveal.
Glen and Thomas Muirhead and Kyle and Cammy Smith, all from Perthshire, represented Britain at the PyeongChang Olympics in 2018, narrowly missing out on a medal with their fifth-place finish.
They were competing as Team Smith at that time, with Kyle skipping. More recently Glen, Eve Muirhead's big brother, has taken over that leadership role.
Because the quartet have been trying to balance farming commitments with their curling, they had only been receiving the lowest level of Performance Foundation funding.
But being part of the official programme enabled them to play big events in Canada and Europe – claiming some major wins along the way – and get access to all the background support at British Curling's Stirling base.
For the last two years they have been the closest rivals of Scotland's number one rink, Team Mouat, finishing runners-up at the national championships in 2019 and 2020. They also narrowly missed out on earning a place at last season's European Championships.
In curling circles, they are regarded as the second best team in the country. And on talent many believe them to be the equal of Team Mouat and the only realistic challengers for the GB place at the 2022 Olympics in Beijing.
The decision to cut them from the programme ends any hope they have of getting to China and may well effectively finish their top level careers before they have reached their peak.
As a consequence of a recent controversial change in British Curling policy, breaking decades of tradition, the winners of the Scottish Championships will no longer gain automatic entry to the World Championships.
That means Scottish places at the Europeans and Worlds and British places at the Olympics will all now be awarded through selection. And there will be no realistic chance of a team outwith the British Curling programme being chosen over funded ones.
The decision is being appealed and the governing body responded: "British Curling has a selection policy that includes an appeal process which is not yet closed, so we cannot comment on any applications for places on the programme at Performance Foundation level until that has been completed.
"The appeals process window closes later this week."
Last week British Curling announced the Podium and Podium Potential teams for the 2020/21 season – Teams Mouat and Paterson for the men and Team Muirhead and a new team with playing order yet to be decided for the women.