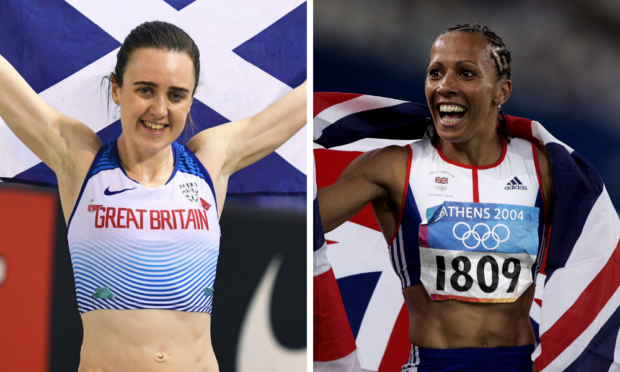 Dundee Hawkhill Harrier Laura Muir has revealed that breaking one of Kelly Holmes' British records lit a spark that made her believe she belongs among the elite – and might follow in her footsteps and claim Olympic gold.
The 27-year-old from Milnathort was due to return to the scene of one of her major breakthroughs last weekend before the Diamond League in London was cancelled due to coronavirus.
But the reigning European 1,500m champion is still inspired by her efforts at the London Stadium in 2016 when she was accompanied by Usain Bolt in a pre-race parade on the track but then sprinted below a 1,500m mark that had stood since the 2004 Olympic final in Athens.
She said: "I hadn't won a medal or anything at that point.
"I'd sort of made my stamp the year before when I was fifth at the World Championships. I didn't feel I was one of the big names, especially when Usain was in the car behind me.
"But I thought: 'the crowd is amazing, I'm in good shape, it's a home track.'
"And then I ran 3:57.49. I was so shocked. It's going to be one of the highlights of my career forever.
"All records are going to be hard to break. They are records for a reason.
"But for it to be Kelly's was very special. It's the record she took in winning gold in an Olympics too. So it was an iconic record and one that had stood for a long time. To break that on home ground was very special.
"I never thought I'd have my name alongside the likes of Kelly's."
Muir, along with training partner Jemma Reekie, remains in a holding pattern to find out when she can eventually race this summer despite training throughout the lockdown.
"We're fortunate," the two-time Diamond League winner said.
"We're runners so we can run. We're not overly reliant on any facilities so we can run so that's nice."
However, only eight Diamond League meetings are still set to proceed with Monaco next month offering the Scottish duo a possible debut.
But although a few British athletes were able to open their campaign in the USA last week, the future of European meetings will depend on national regulations, according to World Athletics.
Muir said: "Hopefully a few Diamond Leagues will go ahead. Some are just going ahead with just field events and there won't be distance events.
"There are a few smaller competitions as well. Unfortunately distance events are the most difficult to hold at the moment so there won't be as many distance races as we'd like."