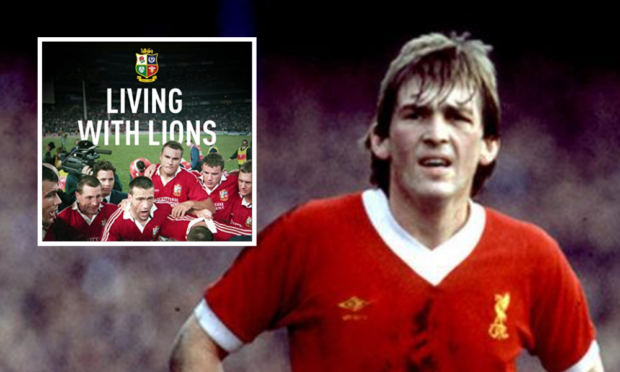 Top-flight football and competitive golf and tennis are back after the coronavirus shutdown, with rugby's restart now just two months away.
In a series of Q&As to mark the return of the action, Courier Sport's writers – starting with Eric Nicolson – lift the lid on their idols, favourite events and sporting pet hates.
First sporting hero:
A nice easy one to start with. Kenny Dalglish. After moving down south and growing up there in the late 70s/early 80s, I was Liverpool-daft and Kenny was the main man. Still is. He remains the classiest footballer Scotland has produced and it was a disgrace that he wasn't recognised with a Ballon d'Or at the peak of his powers. For a current generation comparison, think Roberto Firmino but with goals. Kenny wasn't a big fan of the Press, mind you. So on the one occasion I was in his presence after a St Johnstone v Celtic game, I couldn't bring myself to ask a question for fear of being cut down at the knees by the King with a sarcastic one-liner!
Favourite sporting event you've attended or covered:
Not such an easy one. As an overall package, Open championships take some beating – guaranteed world class sport, stunning venues, very agreeable working environment (free cake) and more often than not, storylines for the ages. If Tom Watson had finished the job off at Turnberry then that would have been a clear winner, even Greg Norman the year before at Royal Birkdale would have done. But I'll go for the 2014 Ryder Cup at Gleneagles. There have been more thrilling contests (I can safely predict which one my colleague Steve 'Medinah' Scott will have chosen in this category) but being inside the ropes at Gleneagles made this an 'I love my job' week like no other. Standing a foot away from panto villain Patrick Reed as he walked on to the 17th tee at Gleneagles following a missed three-footer, uttering words that would make the most foul-mouthed footballer blush, was a particular highlight.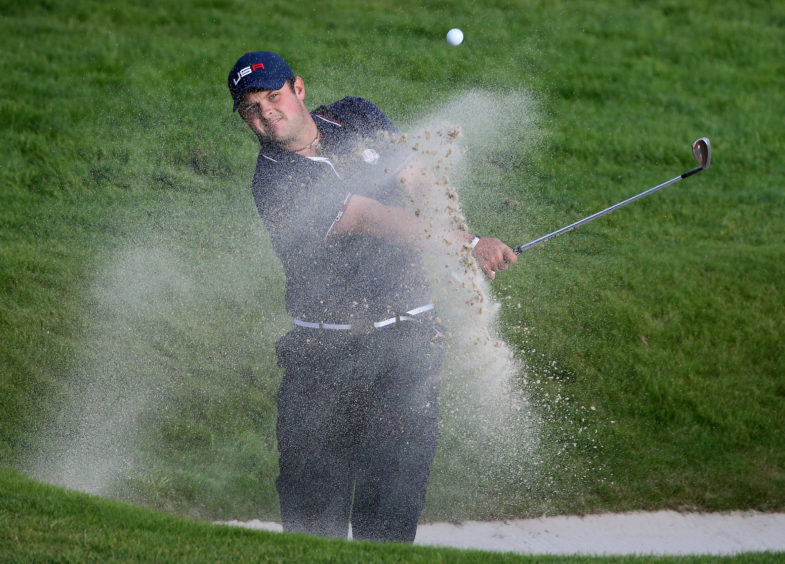 Sportsman or sportswoman you were blown away by when you watched them live:
Usain Bolt is the obvious one but he only ran in the 4x100m relay at the Commonwealth Games and didn't have to go through all of his gears. So it's Andy Murray. I could have easily answered the Davis Cup semi-final against Australia for question two. It was an incredible long weekend. To have never seen Murray compete at his peak would have been a huge regret. Witnessing first hand the power, grace and control he had on a tennis court took my appreciation of him to a whole new level. Sitting mid-court, rather than the standard TV view of behind the baseline, was revelatory. Also, I've never seen unadulterated support and adoration from Scottish fans for one of our own like it before or since.
What other athletes do you enjoy watching today?
The whole Liverpool team basically. They've got the lot. I was at Anfield when they beat West Ham just before the lockdown. It was far from their best performance of the season but there were still patches of brilliance. And to see Jurgen Klopp's side funnel so many of their attacks through Andy Robertson, who I was reporting on at Dundee United not that long ago, gives this Liverpool team a local connection that none of the other title-winning ones in my lifetime have had.
Favourite sports pundit:
In football, Michael Stewart is the best up here. I'm not really a big fan of any of the other Scottish ones. It's the ex-Man U boys, Roy Keane and Gary Neville, who are the most watchable. Sometimes I'll take in the pre-match analysis hour on Monday Night Football and not bother with the match. As for Keane, that you would never skip the half-time bit when he's on duty says it all. Pure theatre. But the cricket pundits are on a different plane – partly because the game lends itself to deep analysis. Mike Atherton is the best of them.
What do you like about Scottish football?
That the quirky storylines never dry up (David de Gea got us off to a flier just the other night). As a nation and as a sport we don't take ourselves too seriously in the main. I can never see a future without characters like Jim Leishman and Dick Campbell in the Scottish game (and speaking to them remains a brilliant part of the job). Oh, and the football isn't nearly as bad as people make out either.
What infuriates you about Scottish football?
That the fixation with Rangers and Celtic is getting more entrenched than ever. It must have been pure joy for my predecessors in this part of the country and further north to cover the New Firm glory years. I must throw in my pet hate of plastic pitches in the top flight as well. The games on them, particularly in winter, are invariably poorer and the likes of Hamilton, Killie and Livingston have an unfair, in-built advantage.
If you could have reported on one putt, try or goal in history, what would it be?
I've put a Liverpool limit on myself so I'll avoid the temptation to say Istanbul. I always end up drifting back to the early 80s for most of my enduring sporting memories. Ian Botham hitting the Aussies all over Headingley, Barry McGuigan winning his world title at Loftus Road, the Borg-McEnroe tiebreak, Dave Narey et al v Brazil in '82, any number of Coe-Ovett head-to-heads and Seve winning The Open at St Andrews are all contenders. I loved snooker back then. For anybody under the age of 40 it's hard to appreciate how big the sport was and nothing can top the drama of last frame, last ball, Davis v Taylor at the Crucible. From a sports journalist's point of view, nothing can beat the rush of filing late night copy with the paper about to be put away. Doing the black ball epic justice at 20 past midnight would certainly have ticked that box!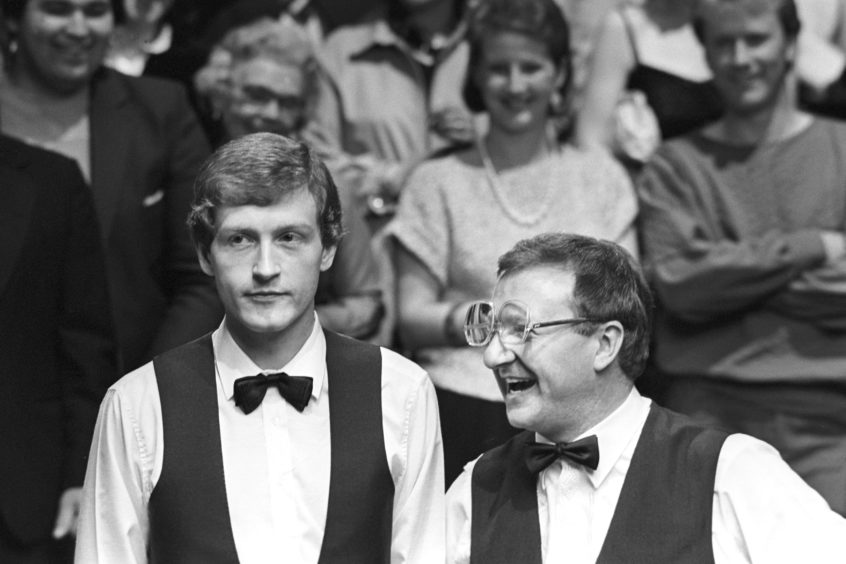 Favourite Courier Country moment:
Does it get any better than a Scottish Cup final involving two of our clubs? It certainly doesn't get any busier work-wise in the build-up, that's for sure. Winning it meant more for St Johnstone than it would have done for Dundee United. Some matches stand out in your memory for different reasons, though. I can't recall enjoying a working afternoon more than Brechin v St Johnstone in the cup a couple of seasons earlier. To arrive at Glebe Park and see Jim Spence in his luminous yellow hat helping Saints chairman Geoff Brown fork a totally unplayable (or would be in the present day) pitch was quite something. After the game kicked off, it seemed that within next to no time you could barely make out a shirt number or recognise a face for mud. It was magnificent stuff. Also, I must give Eve Muirhead a mention. She has been our columnist for about a decade and the most successful Courier Country athlete in that time. I know how much her Olympic bronze meant. Eve getting gold would be top of my wish-list for the next few years.
Best sports book, film or documentary you've read or watched:
Like every other sports writer in the country I watched the Michael Jordan, The Last Dance series on Netflix during the lockdown. It was good but not ground-breaking. Nothing written or filmed will ever come to close to Living with Lions, for me. The British and Irish Lions touring South Africa in 1997 forgot that the cameras were on them. You'll never see that again, just like you'll never be able to manufacture the magic of transitioning to professional sport while retaining the best bits of the amateur era. And it revealed the greatest recorded motivational team-talk ever from Jim Telfer. Nothing in rugby gets my attention like a Lions tour and that fly-on-the-wall production is one of the big reasons for it.
LONG READ: The evolution of Stuart Armstrong as ex-Dundee United star's mentor, a Southampton legend and a former coach discuss his extraordinary rise