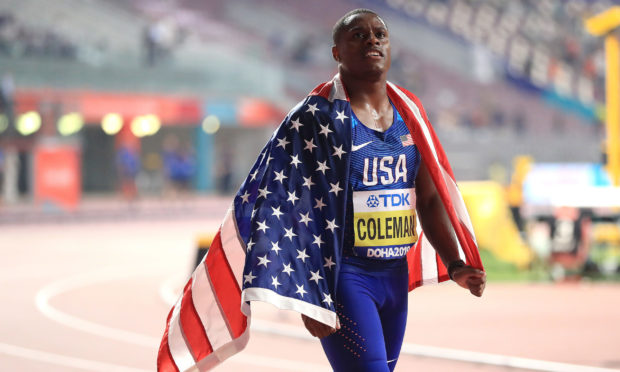 No wonder the Athletics Integrity Unit described Christian Coleman's third missed drugs test as "entirely careless, perhaps even reckless".
In fact, they were being kind to the world champion sprinter.
His explanation that he was Christmas shopping five minutes away from his home just doesn't stack up.
I've been part of the Anti-Doping Administration and Management System (ADAMS) in the past and, trust me, making sure you adhere to it becomes as big a part of your daily routine as breakfast, lunch and dinner.
Certainly, an athlete like Coleman who has been at the top of a high profile sport for a long time will have been on the programme for years.
And it's not as ADAMS is inflexible.
If I had originally entered in my hour slot for the day as say, 5pm to 6pm at Stirling, but I had a change of plan and wanted to go home to Blair Atholl, I could change it up to an hour before. It's that easy.
We all know what a lot of people will be thinking the real reason is.
There's a reason that three missed tests in a year can carry a ban up to two years and I'm afraid Coleman deserves his.
At best he clearly doesn't have respect for a programme that is in place to keep his sport clean….. and we all know what a lot of people will be thinking the real reason is.
I do think that two years is a fair length of ban, though. There is an element of doubt – he could just be arrogant, foolish, or both – so a life ban for missing tests would be too much, in my opinion.
And in any case, being denied the chance to run at the Olympics next summer – probably his one shot at gold – will have an enormous impact on Coleman and send out a warning to others of the serious consequences of not following the rules.
---
It's been nice to see some post arrive at the house addressed to Eve Muirhead MBE!
Little things like that help it sink in how much of an honour it is to be recognised.
The clamour to get Lewis Hamilton a knighthood is growing and I would agree with it.
I'm not his biggest fan, and I'm certainly not Formula One's biggest fan, but the precedent has been set with the likes of Andy Murray, Chris Hoy, Bradley Wiggins and Mo Farah.
There will be plenty of disagreement over whether he's been the greatest of all time in his sport but you can't argue with the bare statistics. And on that front alone (as well as his work for racial equality) he deserves to be alongside the names mentioned above.
---
We definitely made the right decision to not take part in the first leg of the new European Super Series in Geneva.
Things are getting bad in Britain again with the coronavirus and I gather that it's even worse over there.
The men were due to compete in Bern this weekend but that event was cancelled first. And Geneva is less than 100 miles away from there and it got called off yesterday as well.
There will be no international competitions for the Scottish teams this side of Christmas and all we can do is hope that things improve before the Super Series event that is scheduled for over here in the New Year.