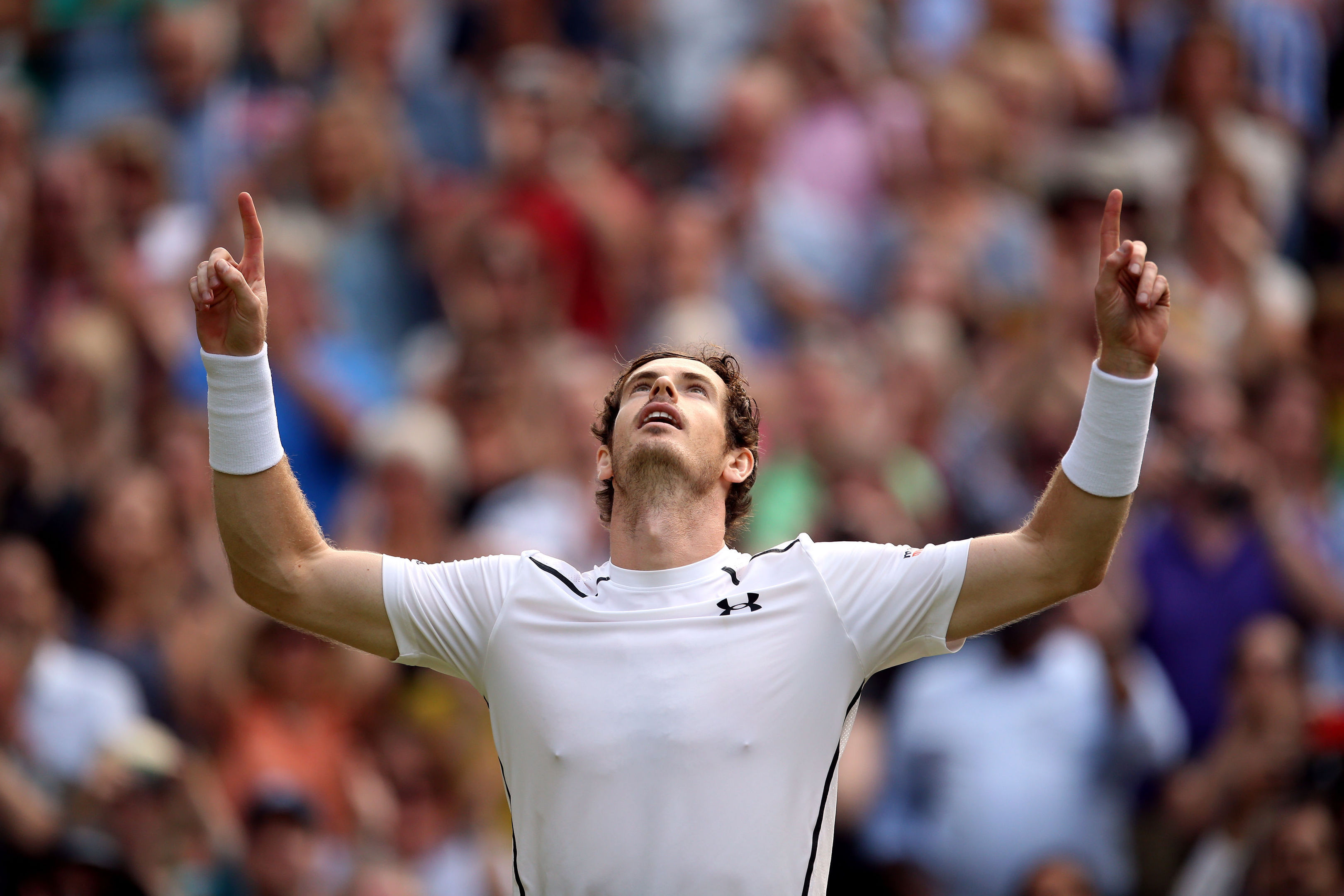 Andy Murray is favourite to win a second Wimbledon title after breezing past Tomas Berdych to set up a final on Sunday with Milos Raonic.
Murray was expecting a tough semi-final, but his Czech opponent had no answer to his high tempo or raking forehands and was blasted off the court in three sets.
The Scot looked focused from the start, pumping his fist at points he won and shouting "Come on, let's go" to himself.
But he was still controlled enough to play exquisite drop shots and lobs to outfox Berdych time and again.
The Royal Box on Centre Court was packed with celebrities keen to see him march on to his third Wimbledon final.
Opera singer Katherine Jenkins and actors Chiwetel Ejiofor and Jude Law were among those willing him on, while Murray's wife Kim applauded and shouted her encouragement from the players' box.
The crowd roared when it went to match point, and when a Berdych backhand fell into the net they stood as one in ovation.
Murray saluted the crowd, pointing to the sky and pumping a fist in his usual celebration, before congratulating his opponent amid hurling his wristbands and towels to spectators.
His win means he has eclipsed the great Fred Perry by becoming the first British man to reach 11 grand slam finals.
Fans who had watched the 29-year-old on Centre Court backed him to go all the way.
Jeremy Cross, 49, from Leeds, thought he had a very good chance of toppling Raonic, whose victory over Wimbledon darling Roger Federer landed him a spot in his first grand slam final.
Mr Cross said: "I think his returning was incredible. When Berdych must be hitting those serves he must be thinking they are never going to come back.
"But Murray made him play the extra shot. His flexibiliy and speed around the court are phenomenal."
Asked about his chances against Raonic, Mr Cross said: "He played him at Queen's and I think Murray had got his number."
Terry Trusler, 64, from Guildford, also backed Murray.
She said: "I saw him in the semi-final three years ago. He was good then but he has definitely improved.
"He looks sleek, his shots are magnificent and I just think he has got it."
Praise came from beyond the bounds of SW19 as well, with Scotland's First Minister Nicola Sturgeon tweeting: "Into the Wimbledon final he goes – brilliant Andy Murray!"
Speaking after the match, Murray told the BBC he was "very happy" and that it had been a "good match".
He said: "To make a Wimbledon final is a good achievement and I've got one more on Sunday.
"The older you get you never know how many chances you are going to get in grand slam finals so you want to take every opportunity."
He added: "I need to play a great match on Sunday if I'm going to win. He's obviously playing the best grass court tennis of his career. I'm aware that I'll have to play very well if I want to win."
Murray said that he will now relax by watching a bit of tennis, get a good night's sleep and then "come back firing on Sunday".