There are not many places in Scotland which can lay claim to be a capital city of British sporting excellence.
Probably just one, in fact.
Through a combination of first class facilities, highly-respected coaching and sustained success, the numbers one, two, three, four, five and six female figure skaters in the UK now call Dundee home.
Its reputation is snowballing. Or should that be, iceballing.
And among that six is a born and bred Dundonian, whose days and nights are spent criss-crossing the Kingsway, stacking shelves at Tesco on one side of it, and putting in 30 hours a week at the Ice Arena on the other side to give herself the best chance of competing at the Olympics.
Karly Robertson doesn't have far to look to size up the competition for the one coveted place on the plane to Pyeongchang in 12 months' time. Chances are, if it isn't the 27-year-old who earns Team GB selection, it will be a skater she shares the ice with twice a day and 10 times a week.
"Most of the senior ladies on the GB national team are training with us now," she said.
"The coaches we have here (husband and wife team Simon and Debi Briggs, and choreographer Andrew Smith) and the progression that the skaters are making is attracting more and more to Dundee.
"The better we do, the more skaters want to come up.
"This is the strongest group in Britain. We have the top six ladies in the country. It's something to be really proud of.
"I would have made the move away if Dundee wasn't such a good base. You need to do what's best for your career and get the best coaching. I was just lucky that was on my doorstep.
"None of the girls who have come up here have picked up a Dundee accent yet, though!"
Olympic selection won't be made until a few weeks before the Games but Karly, who won her first international medal in Serbia just last weekend, is positioning herself well.
"Right now on the rankings I'm second," she said. "Tash (Natasha McKay) won the Nationals and I was second. She trains here as well.
"It's really close between us. Only one girl will go to the Olympics and at least six of us are fighting for that one spot.
"It will probably be announced in January. Your national score gets doubled and your highest international score gets added. The Association then decides who they want to send. They could change their mind but normally they abide by that rule.
"The Olympics are definitely the goal.
"I want it more than anything – just to have the feeling of being an Olympian.
"I was the reserve last time but you don't get to go. It was just a case of waiting at home.
"It is way more realistic now than in previous years. I've progressed so much.
"I can't control what others do but I know I have the potential to make it. I just have to deliver."
Nobody could question Karly's perseverance. Her story at the British National Championships is the very definition of an 'if at first you don't succeed, try and try again' mind set.
When she claimed the title in 2014 it was on the back of seven runners-up places in a row.
"It is hard when you are always second," she admitted. "It was always in my head that I would be runner-up again, runner-up again.
"But I never lost the drive and desire to be champion.
"It seemed out of my reach by the tiniest little margin, so when I did get there I went through all sorts of emotions.
"It was a huge barrier to overcome."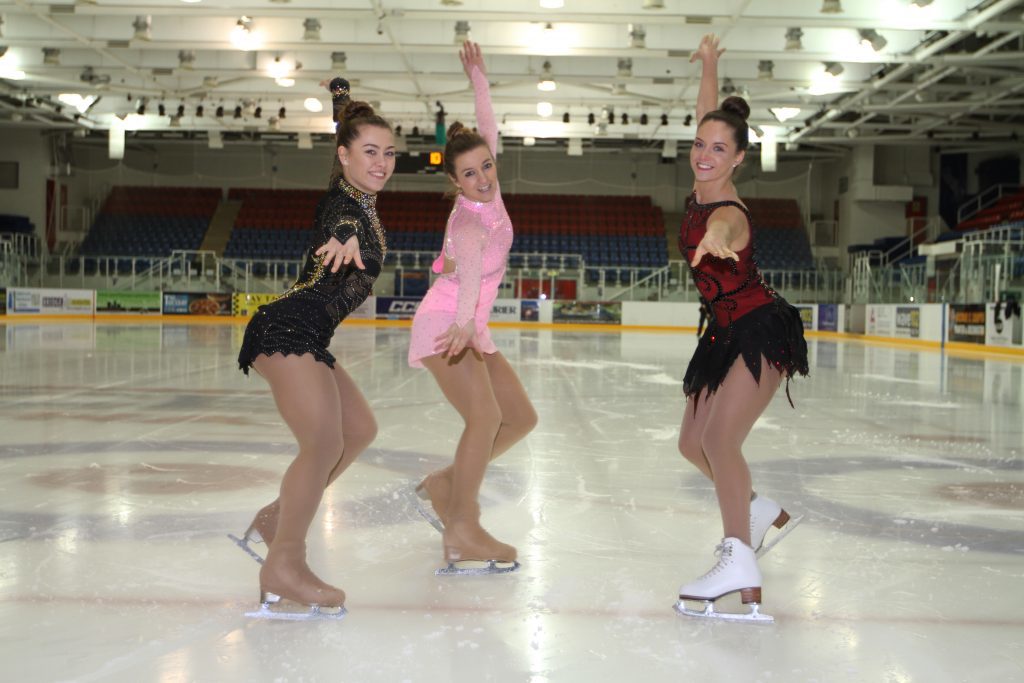 Perhaps understandably, after she had scaled the mountain, the following season brought anti-climax.
"I had a bad year the year after I won the British but I've come back really mentally focused," she said. "I trained harder than ever.
"I'm the first lady in Britain to land a triple-triple jump in competition. For me that was a big step forward. All the top girls are doing them. It was a goal of mine.
"I don't just want to break into European and Worlds. I want to make it into something like the top 15."
Karly's tale of personal and family sacrifice will be a familiar one to athletes pursuing minority sports, and to their parents.
If you were the current British number two and building a reputation beyond these shores that would be good enough to start the funding tap running in a lot of sports. Unfortunately, figure skating isn't one of them.
"To get Lottery funding I would need to be third in the world," she said. "And I can't see that happening.
"I work at Tesco across the Kingsway. It fits in well between my skating sessions. I got that job when I was 16 to help pay for my skating. It's a financially tough sport to be in.
"I travel a lot but you just have to make it work and find a way. My mum and dad have made a lot of sacrifices. They've given up everything for me to pursue my career.
"I'm down here five days a week, skating twice a day – four hours in the morning and two at night.
"And it doesn't really stop. It's pretty much 12 months a year. Between the end of March to the start of June you're making up new programmes, ordering up dresses and learning new moves but you never really have a break.
"Even two weeks off feels strange. If I've not got skating I wake up and think 'what am I going to do?'
"It's been pretty serious from when I was 16 and I started at British level."
The peak years of a figure skater aren't easily defined and if she doesn't make it to the 2018 Olympics, 2022 could still be a possibility.
"It all depends on how you can handle the training and how you keep your body in shape," Karly said. "I get it all the time that people say 'no way are you 27'. They think I'm 20.
"You can keep going as long as your body can take it. There are top skaters still going at 36 or 37.
"You have to have strength, be like a ballerina on ice and look the part as well. It's a balance of the three. You have to have artistry, because that's half the mark, but you need strength for the jumps."
Karly could well be Dundee Ice Arena's most familiar face. When she's not on the ice she's in the stands.
"I like watching ice hockey," she said. "I come to watch the Comets because my boyfriend plays for the team. I'm never away from the place!"
* If there's a conventional route into the world of figure skating, it probably won't be Karly's.
"I was actually a footballer before I was a figure skater," she recalled. "My dad and my brother both played football to semi-pro level.
"When I first began ice skating I was still playing football. It was quite funny coming dressed in my football kit and getting changed into a wee dress. It's probably not too common.
"I ended up quitting the football as the figure skating got more serious."
Karly added: "It all started after I watched a movie called the 'Ice Castles'.
"I'd never been on the ice before. I was even terrible on roller skates!
"I just wanted to learn one move – how to do a Bauer on ice. You glide forward on two feet and lean back with your body. I wanted to be able to do it like this girl in the movie.
"When the ice rink opened my mum got me private lessons because she was scared I would get hurt.
"My sister Kristie skates as well. She doesn't compete anymore but she still trains because she loves the sport so much as well."