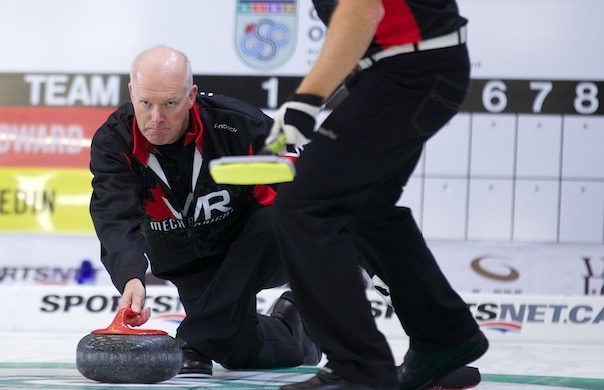 Curling in Scotland has earned a reputation for being a family affair. A cursory glance at the elite end of the sport tells you as much.
At the national championships in Perth this week there have been three Muirhead siblings and a couple of Smith brothers trying to earn a place at next month's World Championships. And the older generation of those two clans set down pretty impressive markers for their sons, daughters, nieces and nephews.
Just as the dynastic element of curling endures into the current era in the country that gave the sport to the world, it would also appear to be strong in the country that is the most dominant, Canada.
Overseeing Eve Muirhead and her team's bid to win another Scottish title at the Dewar's Centre over the last few days has been recently-appointed tactical coach Glenn Howard.
The four-time World Champion doesn't need a family story to bring colour to a career few can come close to, but he's got one. And if it plays out the way Howard hopes, it would be one of the great Olympic fairytales.
Think Nick Skelton on ice. Without a horse.
Howard has never competed at an Olympics but, at the age of 54, he's got one last shot. And this time he's got his son, Scott, for company.
"I'm still playing and having fun and somehow I'm still winning," he said. "I'm off to the Brier (the Canadian championships) again and at 54 I'll be the oldest guy there.
"Our Olympic trials are in December and eight teams will be there. I'm not in that yet. There's a pre-trial and two teams will come out of that. I'll probably be in the pre-trials and if we get hot we would get into the final trials.
"There are a couple of big steps to go and big teams to beat but anything's possible. We can beat them all. It's just a matter of doing it on the right week. I'm not saying I can't do it."
It says everything about the depth of talent in Canadian curling that as decorated a sportsman as Howard hasn't even competed at an Olympics, let alone medalled. He could certainly appreciate how a Chinese table tennis player must feel, a Cuban boxer or a Kenyan distance runner.
"The time that I was playing the best was from 2007 to 2010," he recalled. "Ourselves and Kevin Martin were one and two in the world for a few seasons in a row. We were by far the two best teams. We knocked heads and Kevin got me in the final.
"Coming second isn't fun. Not when you've got the chance to go to the Olympics. They were just a little bit better on that day and that's sport.
"I'm pretty proud of my career and if it ended today I'd have no regrets. I can't possibly feel sorry for myself. I've won four World Championships and I feel blessed. But obviously, if I could have my cake and eat it, I would love to go to an Olympics and play.
"I've got my son in the team with me now. Who gets the opportunity to play with their kid at the highest level? I get goose-bumps just talking about it.
"It's so cool. Only in a handful of sports could a father and son do this. And at this level. It's surreal. He might not admit it, but I think he appreciates it as well."
His rink's place at the Pyeongchang Olympics may be more of a hope than an expectation for Howard but for the rink he coaches, it's far closer to a sure-fire thing.
Even if Team Muirhead were to lose their Scottish crown today, you wouldn't find anyone in curling who doesn't expect them to be on the plane to South Korea.
Howard the Olympic coach is more likely than Howard the Olympic athlete. The two certainly don't appear to be compatible roles.
"It's obviously a huge dream of mine (to play)," he said. "I wouldn't say it was far-fetched but it's going to be tough for me to get there.
"I'm at peace with not going as a player. I can't put the time and effort in that I used to. I don't feel any pressure.
"I guess we would cross that bridge if it comes.
"I'd love to think I could help them but it would be difficult. Hopefully, either way, I get to go to the Olympics."
The competing demands on Howard's time and the logistics of a long-distance relationship mean this couldn't be anything except a part-time role, but Howard believes the early months would suggest that it can be a prosperous one.
"It's been a balancing act," he said. "I've got a full-time job managing a beer store, I'm curling, I'm coaching and I've got a family. That's a lot of balls in the air! It has been busy.
"The girls understand I'll be here when I can. There's five time-zones between us but with technology we've managed to do a lot with the team and the support staff. I think it's worked.
"It's my first official coaching gig. I did a bit with my kids but nothing serious.
"I knew Eve and her family the best, but they're all great girls.
"The other big factor was Scotland. I'm a big fan of the country. I've always had this soft spot for Scotland. It's the birthplace of curling and the people are wonderful. There's some Scottish blood in there as well.
"I've absolutely no regrets. I'm really enjoying it.
"The crew they have is second to none. It really is one big, happy family and they've welcomed me with open arms. I wasn't sure how it would go but I've had a ball.
"The girls are sponges. They're respectful. They'll challenge me, but I like that. They're so knowledgeable at such a young age. It's just a case of little tweaks to hopefully get them a bit higher. That's all they need."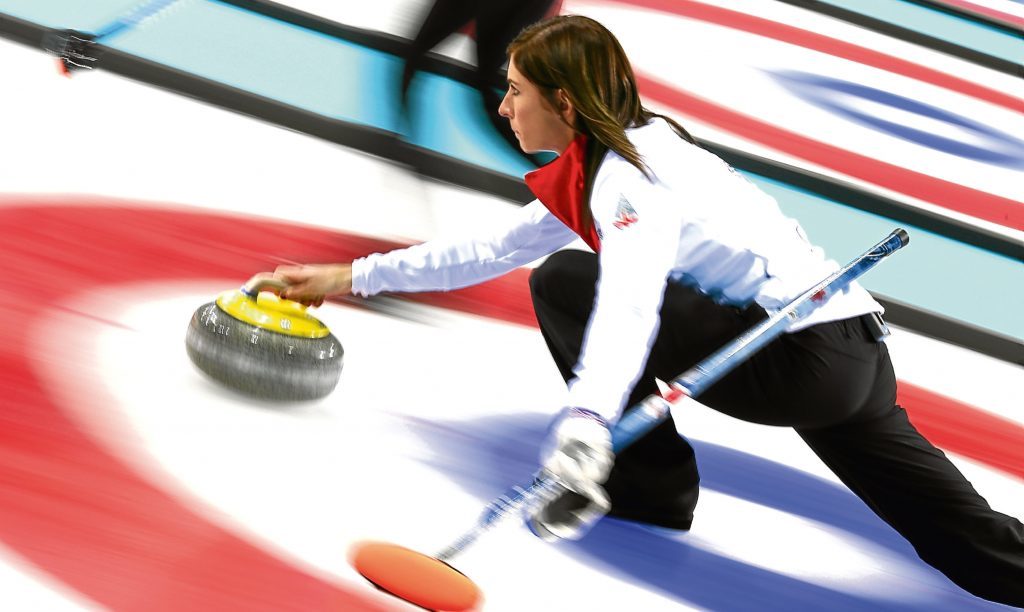 Howard had a clear vision of the subtle changes he wanted to bring to the Team Muirhead strategy. In snooker parlance it would be appreciating the right time to refuse the long pot down the cushion even if you know you could probably get it more often than not.
"I felt that if there was anything that could have been slightly concerning it would be that Eve was too aggressive," he said. "Aggressive when she didn't need to be. I watch a lot of curling and I've noticed it over the years.
"I'm trying to pull back a little bit.
"It's OK to be aggressive – and you can see why that's her default because she keeps making shots – but you don't want to miss one when you don't have to.
"We've got the skill-set where we don't need to be quite as aggressive. We'll pick our times. It's all about control. Eve's so curling-savvy.
"It's taken a bit of time for Eve to think that way but I think it's going well. You've got to be smart about it."
The next Olympics will be Muirhead's third and Howard believes the value of learning hard lessons in the first one, and then medalling at the second, will be significant.
"It's huge," he said. "Experience is massive. They girls are between 25 and 27. It's amazing the experience they've got already. Eve has been to two Games at just 26.
"There will be no unknowns for them.
"Their goal is obviously the Olympics – to get there first of all and then medal.
"In the meantime we want to win as many games as we can and be as prepared as we can. There are a lot of little goals we want to reach prior to the Olympics.
"With the top teams it's all about consistency. You can fluctuate between great and good but not great and bad. The best have little blips, not peaks and valleys. That equates to wins and equates to championships. And the more you win, the calmer you are. Experience is everything."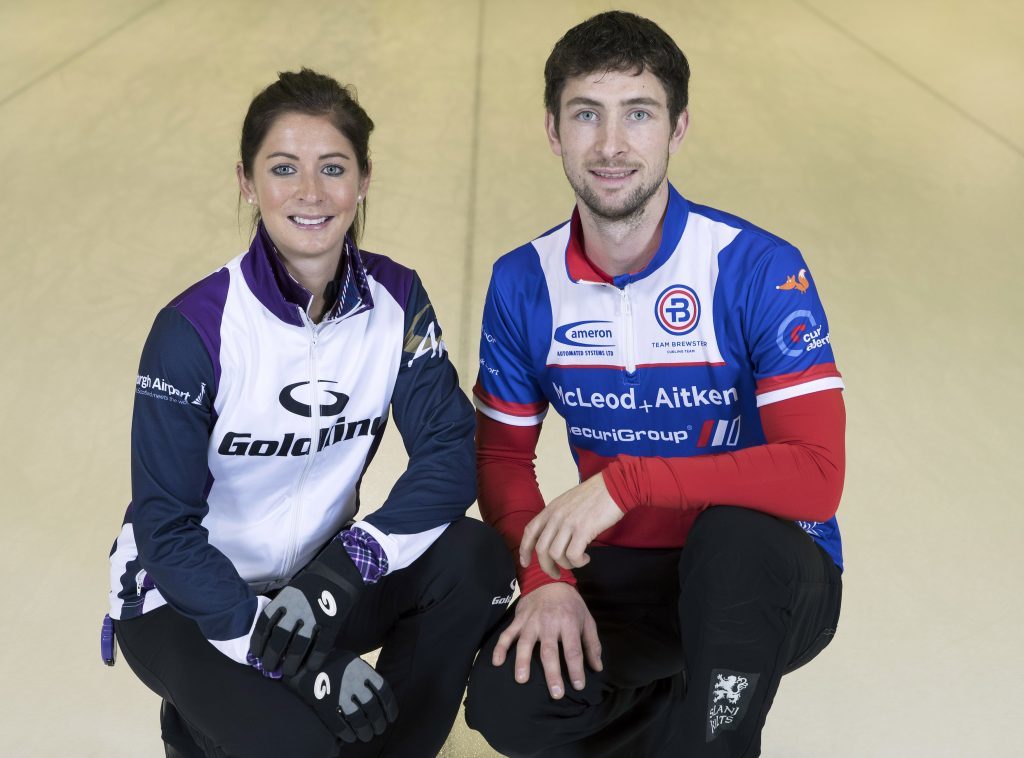 * Muirhead has yet to be won over by the mixed doubles format of the sport that will be introduced to the Olympics for the first time but Howard can see a brother and sister double-act with either Glen or Thomas down the line.
"I think so," he said.
"Eve and I have talked about it. She's a little bit unsure.
"I think it's fantastic. It's fun to watch and play.
"It's another chance for our game to be showcased and another chance to win a medal for your country. A gold's a gold.
"I've actually played with my daughter in internationals and I had a ball.
"I think Eve will come round it when the mixed gets a bit more hype."
It has been Muirhead brother against brother in recent years – Glen in Team Brewster and Thomas in Team Smith – and Howard admits he would struggle if they were his two children.
He said: "I played for 15 years with my brother growing up, then he moved away.
"He ended up going to a Brier five or six years ago – actually with his son – and we played against each other. It was tough.
"It's not easy playing against family. Even more so, watching family against each other. I can't imagine what the Muirheads go through when the boys are playing against each other. It's a no-win for the parents."