Whatever the future has in store for Dundee's Elite League ice hockey club under the stewardship of Omar Pacha, nobody will be able to accuse the Canadian of half measures.
Taking on the position of head coach at the end of your playing career would be more than enough responsibility for most, whatever the sport. The thought of combining it with the duties of general manager would keep you awake at night.
Just as well Pacha doesn't need much sleep. Or a day off, for that matter. When he describes his involvement with Dundee Stars as "24/7", it isn't as big an exaggeration as is usually the case with that phrase.
"I've been here since August the 12th and I have to admit I've not had a day off since then," he said.
"I'm a bit of a freak like that. My brain is always going. I love what I do and if you feel like that it doesn't feel like a job. You don't count the hours when it's a passion. I'm privileged to do what I do.
"Taking a day off will be important one day. It will happen!"
Pacha arrived in Tayside after a three-year Elite League playing career in Hull and Manchester. It wasn't a case of the Stars owners' seeking to mould two important jobs into one, more Pacha putting his hand up to take on the extra workload.
He explained: "I was supposed to go back to Manchester as a player/coach but there was a change in ownership. I felt it was best for them and me to move on.
"I went back to Montreal in the summer and around that time Marc LeFebvre (Stars' last head coach) took a job back in North America.
"I didn't want to play anymore," said Pacha, who earned business degrees at home and while in Manchester. "I was 30-years-old and I knew my hockey career was coming to an end. I wanted to pursue another avenue.
"I've had businesses when I've been home in the summer time. I can't stay still. I've always go to have something on the go.
"When I was approached I expressed my interest in being the general manager of the club as well as a coach. There was nobody really pushing the business.
"I don't think that was how the owners were thinking originally but they spoke to my general manager at Manchester, Neil Russell.
"I was doing a lot more than player/coach there. I was the director of hockey operations. I helped with sponsors, the media and business side of things.
"We grew the club in Manchester – doubled the attendance and brought on board a lot more sponsors.
"Now I want to grow Dundee.
"The owners have full-time jobs. Elliot Shaw was hired last year as a commercial manager but there was nobody else working in the background.
"It was a great opportunity for me to grow a business, a sport and a team. We're growing the sport in the community."
With the season not long up and running, it's too early to put percentages on whether the coaching or general manager hat gets put on more. Pacha is convinced, though, that the roles are compatible, for him at least.
"Mornings are more hockey-focused, with practice and video analysis," he explained. "Then in the afternoons we have our meetings and recaps with the players.
"After that's done there are a lot of e-mails and business meetings. It is time consuming but it's rewarding.
"In Canada and the US the general manager role is more about managing the whole hockey operation, which is what I was doing in Manchester.
"If you want to put it that way, I'm also the director of hockey operations here!
"I guess there are a few owners back in North America who are president and coach. But in this country it's very rare.
"It's a position I forwarded myself for and thought I could do well.
"The way I see it, if you grow the club, you grow the team and vice versa. The two are linked.
"You can't do everything. There will be times when the hockey consumes everything. I do have to delegate. The main thing is managing your time and delegating to individuals you can trust.
"Listen, it is tough and very time consuming. I don't see many people taking that role but I was ready to do it. To have different people in different roles in the future, we need to grow the sport in Dundee now.
"There are teams in our league like Sheffield, Nottingham, Belfast and Braehead who have five, six, seven, eight, nine employees. Outwith the hockey players we have two people on the payroll.
"The better you do on the business side of things, the better players you are able to attract. It's a virtuous circle. If I grow the business side I can grow the hockey side. Everyone's a winner.
"If we win on a Saturday and it's a good crowd, I'm happy. Then after the game I want to know what we've done well as a team but I also want to know what we did off the ice in terms of the match day experience."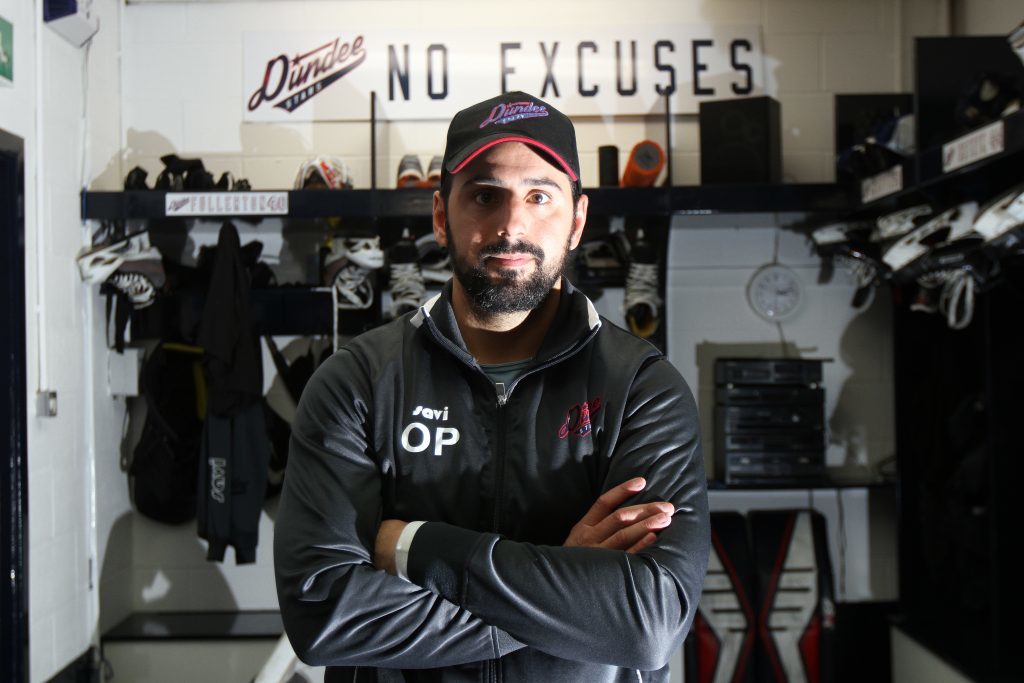 You couldn't call Stars a well-kept secret. They regularly get well over 1,000 people at their games and have progressed to the semi-finals of the Elite League play-offs. But there is plenty of room for growth on and off the ice.
"Untapped potential" is Pacha's description.
"Last year they had a great season and made the final four," he said. "We're looking for that sort of consistency year after year. This is a really tough league. It's probably one of the best in Europe.
"As of now, we don't have the resources of other teams so we have to be different in our approach and be smarter in our recruitment.
"That's why we have a younger team. We have some great additions. Unfortunately we lost probably our best one through injury – Chris Lawrence.
"My main goal is to grow the organisation and I know the results have to help that. There is so much potential here.
"For me it's very simple. I need to have everybody in this city to know that there's a Dundee Stars. There's also up north on the way to Aberdeen and towards Perth. There's a market untapped.
"I'd love to have 2 to 3,000 hockey fans on a nightly basis, even though that's probably not realistic in the next few months, maybe even years.
"We want to get casual fans along, and more kids. It gets really loud in here, it's inside, you can drink when you watch the game, it's good for families. We have in-built advantages. We've got a match day experience everybody will enjoy and an ice hockey product that is one of the best in the world.
"I want the Dundee Stars to be talked about in the area.
"I love Dundee. I haven't done much yet but I've been down the town and it's a great city. We're part of a sports culture here and it's up to us to push it as far as we can.
"Ultimately, in terms of the hockey, the main goal is to win silverware. If we keep improving we're going to give ourselves a good chance to be competing at the top."
* Dundee Football Club are hoping to move their stadium near to the Stars' part of town, with an expanded ice arena mooted.
"I think there are going to be talks in the future," said Pacha.
"This is a great area to have a sports hub – right off the main road. Having a centralised sporting facility would be logical.
"To have an area where everybody knows is a base for top quality live sport, with a lot of parking and other activities nearby makes a lot of sense.
"It will be interesting to see what the plans are and if we're involved in an important role that would have a big positive for us."