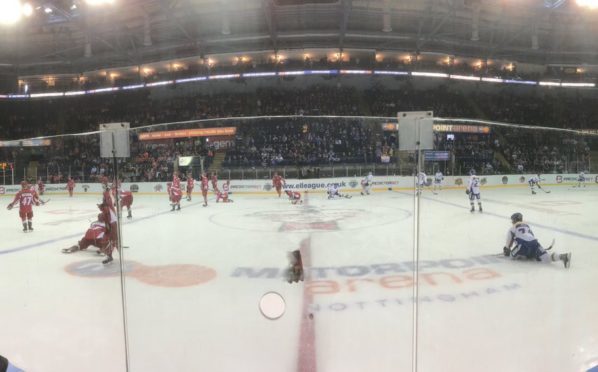 Fife Flyers have lost to Cardiff Devils in the first showdown of the 2018 Elite Ice Hockey League play-offs in Nottingham.
The Kirkcaldy side were beaten 4-0 in the semi-final British Championship game.
The Flyers held off the Elite League champions until the second period when Tyson Strachan fired in a shot from close range.
Three further goals came in the third period from Matt Pope, Layne Ulmer and Justin Faryna respectively.
The Flyers clinched a slot in the semi-finals in dramatic fashion against Manchester Storm storm last Sunday following a 5-1 victory, progressing 6-5 on aggregate.
Sheffield Steelers and Nottingham Panthers will play each other at 5pm ahead of Sunday's final.
The Flyers will play the second losing semi-finalist ahead of the weekend's biggest game to determine third and fourth places.
Hundreds of fans made the journey to Nottingham's Motorpoint Arena to enjoy the weekend of ice hockey.
It was the third time the Flyers had made the "final four" of the play-offs in the past seven years, and comes after the side won the Gardiner Conference title for the first time.
Flyers fans assembled and ready for the @predictorbet semi final v @cardiffdevils #PeskyFlyers #Scottingham2018 pic.twitter.com/8itDtObvcm

— Fife Flyers (@FifeFlyers) April 7, 2018
Huge thanks to all the fans who have supported us over the course of the season & the fans who have travelled and watched from home this weekend!
We will now face off in the 3rd vs 4th game tomorrow! #PPOFW18 ??

— Fife Flyers (@FifeFlyers) April 7, 2018
The fans are all here. Are you ready? #PPOFW18 pic.twitter.com/aeadndWvUe

— EIHL (@officialEIHL) April 7, 2018
Action from the 1st period.@cardiffdevils v @FifeFlyers

? @woolster80 pic.twitter.com/sfcxayLU33

— EIHL (@officialEIHL) April 7, 2018
Great atmosphere here at @nottinghamarena. Fans from all clubs being heard at various points #PPOFW18

— EIHL (@officialEIHL) April 7, 2018
More from the 2nd period.@cardiffdevils v @FifeFlyers

?@woolster80 pic.twitter.com/4vxsa1mLov

— EIHL (@officialEIHL) April 7, 2018