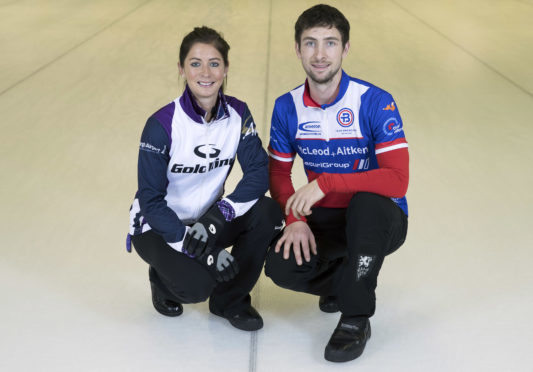 There will be two Team Muirheads in the new curling season.
British Curling have confirmed that Eve Muirhead, who is recovering from hip surgery, will continue to skip her rink in 2018-19, with two new members.
Jennifer Dodds and Vicky Wright are the fresh faces, with long-serving vice skip Anna Sloan dropping out for a "career break".
Meanwhile, Eve's brother Glen will fill the place of Kyle Waddell in the team that represented Britain at the recent Winter Olympics. He will skip the rink, with the brothers Kyle and Cammy Smith and Thomas Muirhead making up the quartet.
Elsewhere, Olympic silver medallist Michael Goodfellow, who played lead for Team Murdoch when they represented Team GB in Sochi, starts the next four-year cycle as part of a completely new line-up.
Goodfellow joins forces with Waddell, Duncan Menzies and (skip) Ross Paterson.
Also on the programme is Team Mouat, which remains unchanged after a meteoric rise in the world rankings, having only started out together at the beginning of last season.
Last year they claimed three tournament wins in Canada and are number six in the world rankings.
In the women, Team Jackson, 2017 world junior silver medallists have maintained their line up from last year when they made their debut at senior level.
They will continue to receive support at the lower Performance Foundation level (the same as the men's Team Muirhead).
British and Scottish Curling Performance Director Graeme Thompson said: "Congratulations to all of the members who have been selected to the British and Scottish Curling performance programme.
"We are delighted that the programme can support and invest in those who are on the journey towards Beijing 2022.
"We know that the world stage in curling is becoming more competitive and it will take a lot of ability and commitment for our teams to continue to achieve at the top of the sport. That is our clear aim.
"At the start of a new cycle we have been able to make a number of team changes. The whole programme can draw encouragement from the significant strides new formations have made over the past year which demonstrates how quickly, potentially, new teams can achieve big successes.
"Everyone needs to embrace those changes where we see its benefit to the athletes and the programme moving forward."