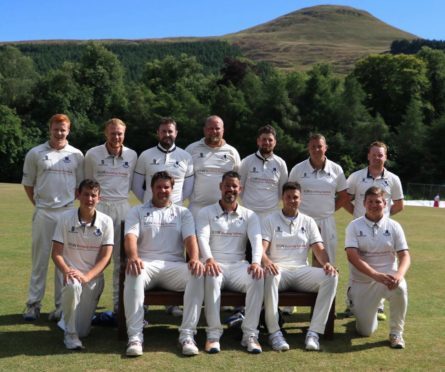 The oldest cricket club in Fife are doing their bit to extend a glorious summer for the sport in Scotland as they seek to emulate their closest rivals' historic National Village Cup triumph.
Anybody who has ever picked up a bat and a ball – and plenty who haven't – either remember the day that Freuchie were victorious at Lord's or have had the legend passed down to them through the generations.
That was 1985. Now in 2018, Falkland are two matches away from a trip to the home cricket.
With Scotland beating England for the first time just over a month ago, and a Fifer taking the decisive wicket, talk of a feelgood factor certainly isn't over-blown.
Folkton and Flixton of Scarborough are Falkland's quarter-final opponents at Scroggie Park on Sunday and Paul Watson, one of the club's vice-presidents, believes they have a great chance of progressing even further.
"We know nothing about them," he admitted. "But that's the beauty of the competition.
"We've made contact so they can make the arrangements for the trip but other than looking at scorecards, there isn't much you can do.
"We had 300 people at our last 16 match against East Ardsley (from Yorkshire) and their captain, who has played in the tournament for 25 years, admitted that the standard of our game up here might have been underestimated and that some of their players might have been intimidated by the size of the crowd.
"He thinks that we've got a good balance to our team which will hopefully give us a great chance.
"We've got home advantage again and hopefully there will be another big crowd."
Founded in 1860, Falkland have only recently been readmitted to the competition that is the sporting embodiment of village life.
"In the mid-90s the rules changed so we couldn't play in it," Watson explained. "Effectively we were told that we were too big.
"Then the rules were changed again a few years ago and we reapplied. This is our fourth year back in the competition.
"We've been reasonably successful and got to the last 16 twice but our last victory took us into the last eight for the first time.
"It's a great achievement and has brought people back to the club. It's about representing the village and, when you get this far, it's now about representing Scotland as well."
Freuchie have had a piece of Scottish sporting folklore all to themselves for decades but Falkland are "writing our own history", Watson was keen to point out.
"No Scottish team has won it since Freuchie in 1985," he said.
"We've got good relations with our old rivals (who they beat to get out of the Scottish section of the competition) but we're writing our own history.
"With every game that we're winning, we're adding to the story.
"There's definitely been a feelgood factor in Scotland since the win over England and we'd love to keep that going.
"We've had great support from clubs across the country."
Around 500 people are expected at Scroggie Park for the 40-over match that starts at 1pm.
Many of them will be children and Falkland are proud of their burgeoning youth set-up, the Falcons.
For the first time junior membership has reached 80, with some of the youngsters playing representative cricket for Fife, Tayside, the Caledonian Academy and Scotland.
Sri Lankan professional Harsha Cooray leads the coaching team, and will have an important role to play on Sunday, even though he isn't allowed to put on his whites.
Watson described Cooray as "the best coach in the country".
To say that Falkland cricket is in Watson's blood would be something of an understatement.
"We're a huge cricket family," he said. "My grandads on both sides of my family were heavily involved. One was president and one was groundsman. There has been a lot of Watson/Nellies heritage since then.
"There's a team in Edinburgh called Watsonians and we could maybe be called that!"
Watson hasn't played in the competition this year as he awaits a knee operation. Now living in Yorkshire, it's taken some careful diary planning to make sure he has attended all the games.
He said: "I've manufactured work meetings in Scotland on Fridays and Mondays and have a very understanding missus! I certainly won't be missing Sunday's game."