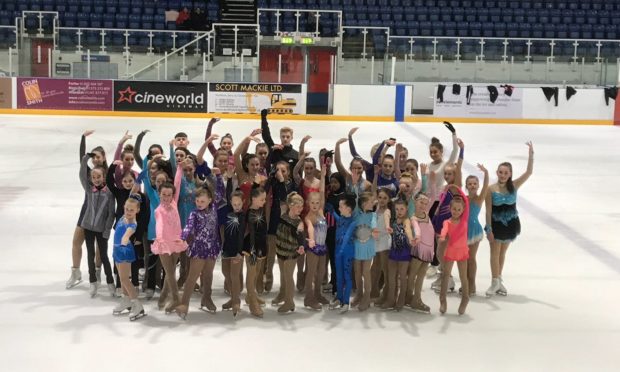 The Dundee Open will see hundreds of the UK's top young ice skaters compete at Dundee Ice Arena over the next three days.
The event is run by Dundee Ice Skating Club and Natasha McKay, the current UK ladies figure skating champion, will headline a 285-strong field of competitors from across the country.
Children as young as six and seven will compete in the beginners' category, all the way through to the elite skaters in the junior and senior ladies' and men's events.
Lynne Robertson, from Dundee ISC, said: "Dundee will be extremely well represented, with 53 skaters taking part across almost all of the 27 categories.
"Such was the enormous level of demand that not all skaters (including some of our club members) were successful in getting a place.
"While it is extremely disappointing not to be able to give everyone a place, it is great to see the event is so popular."
McKay will be performing her new short programme choreographed by world-renowned choreographer Benoit Richaud for the first time.
Other Dundee skaters taking part include UK elite squad members Karly Robertson, Danni Harrison and Katie Powell in the senior ladies, and Ana Vaipen-Law in the junior ladies.
The city is particularly well represented in the basic novice ladies, where Lucy Hay will be looking to build on her excellent second place performance in the Sheffield IJS.
She will have to contend with stiff competition from club colleagues Georgia Hillman, Holly Dalrymple, Anya Robertson, Kiera Connolly and Louise Essery.
Coaches Simon and Debi Briggs also have high hopes for up and coming skaters in the advanced novice section, namely Sophie Bole and Marlana Storrier (women) and Kyle McLeod (men).
Simon said: "For the elite skaters, this is the start of the season and is a great opportunity to put down a programme in a competition.
"For our younger skaters the goal is always to look for progression, and if possible, personal bests.
"A podium place is always a very nice bonus.
"The club and committee have put in so much time and effort and I'm sure this will be a great event."