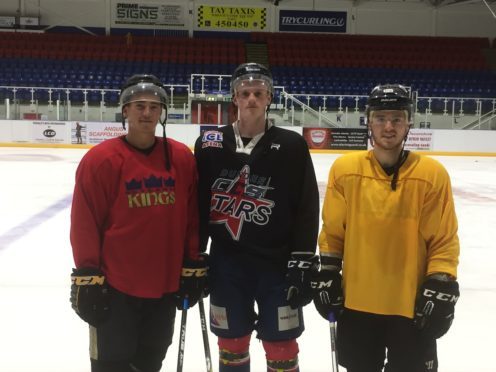 Dundee Stars will have a strong local presence this season.
Head coach Omar Pacha has brought three Dundonians into his squad for this year – Jordan Cownie, Kris Inglis and Craig Garrigan – and they will get their chance over a long campaign.
Pacha said: "It is massive, especially with the way the league is going now, depth is so important.
"These guys are all going to get opportunities to show what they have, especially in the upcoming pre-season.
"We are really look forward to seeing their improvement from day one of camp."
The three players are role models for future graduates of the Stars youth system.
"I think it is growing," said Pacha. "Although I don't think we are there yet but there has been a lot of fruition over the last few years from the junior system.
"Obviously, Jordan, Kris and Craig all played here, and these guys are setting the tone for hockey players here in Dundee.
"The important thing is to make sure their being good role models, because it is important for them to show the way for the next prospects.
"We are hoping to get more every single year. It is important for us as a club to give back to the kids.
"We have a really good relationship with the junior system, so there are a lot of positives."
The Dundee Stars youth academy takes kids from  a young age and develops them through to the under-20s where they can progress through to an affiliate team, Dundee Comets of the Scottish National League, before making the step up to the professional Elite League.
Pacha added: "It is really important to be proactive and spend time with these kids and obviously making sure that we give them the right tools to succeed.
"The challenges are always the same with the ice time for them and the competition, but they have the opportunity to play and we have the opportunity to give back, so it is important to use our time wisely."
All three Dundonians came through the Stars youth system but have taken different routes to find themselves in the Stars Elite League roster.
Cownie left the youth programme in Dundee at age 17 when an opportunity down south arose.
He said: "I had a great youth career in Dundee and made a lot of good friends as well as growing up playing with my best friends.
"We had a great time and a lot of success coming up through the youth academy. I had a lot of great coaches who helped me get my career in the right direction.
"Then when I was 17-years old the move to England came about and I felt I was at a good stage within my own ability to go down there and continue moving my career in the right direction.
"There are lots of different routes young guys can take, obviously with guys like Craig, he went over to Canada and went down that route but for myself, I was fortunate that I got approached to go down and play in the English Premier League, which is a semi-pro league."
Inglis has played his way through the Stars development set-up. After reaching the under-20s age group, he quickly became involved with the Dundee Comets before being mentored into the Elite League squad by ex-head coach, Marc LeFebvre.
The 20-year old defenceman was called upon last campaign when injuries plagued Pacha's side and took full advantage of the opportunity.
He said: "Last season was a huge opportunity for me getting the chance to play when we were down on bodies. Getting thrown in at the deep end like that when you haven't had a lot of past experience is probably the best way to learn.
"I had to adapt my game a lot. Obviously coming from the SNL last season and playing in both leagues, it is a bit higher pace and a better standard of hockey in the Elite League.
"So getting that chance was exactly what I needed to give myself more confidence and a bit more experience coming into this season, where hopefully I will be needed a lot more."
Inglis praised the Stars' youth set-up for giving him the necessary skills to succeed at the top level.
He said: "Obviously playing in Dundee all my days, it has served me well. I came through all the age groups.
"I have learned all the necessary skills and all the different aspects of the hockey game to allow me to actually play at this level now.
"I have worked hard through my whole career, which I feel is a big part of being able to get to where I want to be."
Garrigan is one of the new additions to this season's roster. he left the Dundee youth system to join a Canadian hockey academy before moving to an American prep-school league.
The 20-year old forward said: "I grew up through the Dundee Stars junior development, but I felt like it came to a point where I had to push myself into a hard position.
"I thought going over to the United States and Canada there would be more opportunities as there are more leagues over there."
Garrigan believes that the North American academies have helped him get his first pro contract with his home town team.
He said: "The experience of meeting other guys from all over the world has helped me, playing against really good players that go on to bigger leagues.
"I have always played juniors then in a prep league in Canada, also growing up watching the Stars every weekend.
"It has been a dream to play for the Stars and now it's coming true."