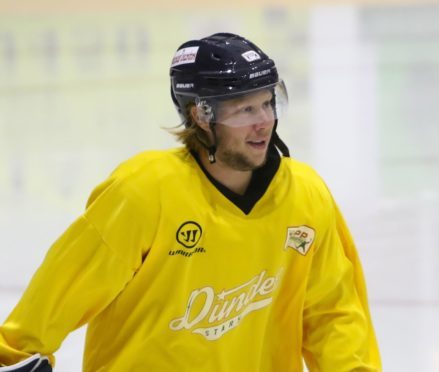 Omar Pacha is hoping two experienced Swedes will bring leadership to the Dundee Stars this season.
The head coach has re-signed Johan Andersson for a second season and tightened things up at the back with the addition of netminder Pontus Sjorgen.
Pacha said: "I am happy to have Johan and Pontus. They know each other and they bring great leadership. They are two good people, two good players and two good team-mates.
"I think with Pontus's experience you can tell he is a winner. You can see in practice how good he is. We have a really solid goalie.
"Its early days but we are looking forward to seeing him in action."
After a hard season during which he and the whole team battled injuries, Andersson is back and ready to make the most of a second chance.
He said: "I feel good and I am very happy to be back, the team looks good and we have a good group of guys.
"I am very excited for this upcoming season and it was an easy decision to come back."
Andersson believes experience will settle the group.
He added: "To be honest we are not that young this year. We have a couple of young guys, a couple of older guys like Pontus and myself.
"It will bring some experience and some calmness to the locker room as well.
"It is a good mix of young and old. We look good so far."
On the Swedish reunion, Andersson said: "It is going to be fun. It was 15 years ago we last played together.
"I think we have both changed a bit over the years, but it will be fun to play with him again and I am very happy he is here."
Sjorgen said: "I wanted to try something new. I played my whole career in Sweden.
"I heard a lot of good stuff about the league and of course Johan was a big influence, and after a good talk with Omar and Johan I felt like this is something great and I want to try it."
As well as performing well personally, he hopes to pass on some good habits.
He said: "Experience is always good and for me I just want to bring good habits every day and help the younger guys, if I can help something with my experience it will help the team."
He added: "Of course it is going to be different. It is another type of hockey that is similar to Canadian/US style but so far I think I am going to adjust to the game.
"I think I am going to jump into it fast and if you work hard every day it will pay off."
Stars kick-off their pre-season friendlies this Saturday against German opposition EHC Freiburg.