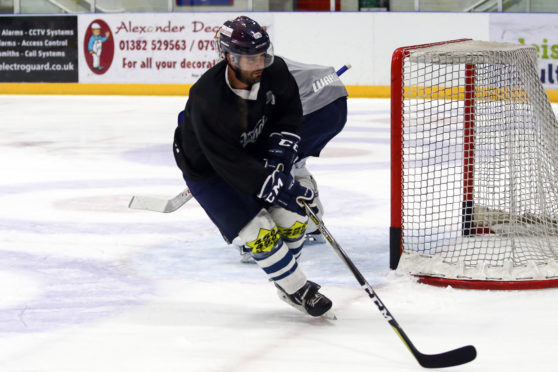 The first games of the 2018-19 season has arrived for the Kitmart Dundee Stars – and it will be a tough test for the Tayside team.
EHC Freiburg of the DEL2 are the first opponents for Omar Pacha's men in back-to-back home games.
"Pre-season has gone well," said Pacha. "The guys are really responding well and the work ethic is high.
"The guys were a bit fatigued on Thursday but they still worked hard, they still had a high energy and I saw a lot of good things.
"It is all very encouraging, but we are just looking forward to seeing how we compare to other teams and how we respond to a game situation."
Pacha then outlined his expectations for the weekend.
He said: "I just want to learn a bit more about us as a team.
"Things like how we play, how guys will react in game-type situations, whether it be defensive zones, neutral zones, offensive zones or powerplays and penalty kills, just how guys will react to a team that has been together for a few weeks now."
On the test that will be posed this weekend, he noted: "We just thought the time would be right to play a team outside of our league. It's different for us and different for the fans.
"So, it is just a good combination of everything and we are happy to have them here."
Freiburg played their first preseason game over three weeks ago against Swiss side, EHC Visp, and lost out 5-2 on the road. Sergei Stas and Jiri Fronk found the net to draw the Germans level before a disappointing third period collapse.
They returned home four days later to face the Schwenninger Wild Wings in the Black Forrest Derby but were beaten 3-2 on penalty shots after Alex Minor-Barron and Marc Wittfoth put the Wolves ahead twice.
The Wolves have already played five games with a record of one win and four losses, also they have since added Canadian forward, Stephan Seeger to their line-up, bringing their total squad count to twenty-four compared to Dundee's eighteen.
Freiburg played their first pre-season game over three weeks ago. Last weekend they claimed their first victory against Swiss side Ticino Rockets.
The Dundee defensive unit has been upgraded in the summer. Pontus Sjögren will have his first chance to show the fans why he is so highly rated.
Stars defenceman and ex-DEL2 player, Shawn Boutin, described the challenge that will face the Stars.
He said: "They play a European style of hockey, meaning it is not as physical as this league here.
"You have more time with the puck as you don't get hit as much, but everything happens fast, like quick plays and breaks.
"In that league, every team can beat everybody, a bit like in this league too.
"They will be fast and they will make quick plays, I think they have a different team from last year but they have good players up front and they have a good goalie.
"I am expecting a tight game against Freiburg."
Reflecting on the first week of training, Shawn added: "The first week of training camp has been great, everybody is excited to be on the ice, guys are sharp and we have good pace.
"I am really excited to get started, I have been skating for four days now and everybody is skating hard and practicing hard."
Saturday's game faces-off at 7:00pm with tickets still available online and from the DIA box office.