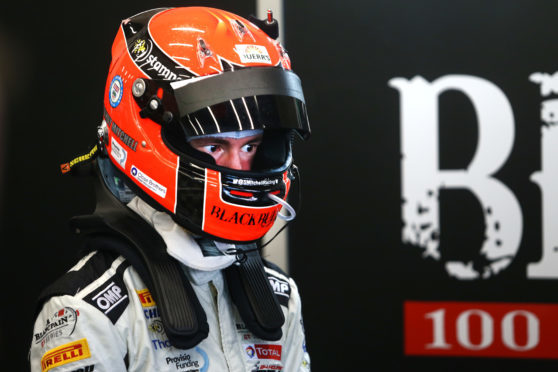 Angus star Sandy Mitchell has his eyes on the prize in the final round of Europe's premier sportscar series at the Circuit de Catalunya in Barcelona this weekend.
The 18-year-old heads to Spain on the back of successive podiums for what promises to be a thrilling season finale, with the coveted Silver Cup still very much within the reach of Mitchell in his 190mph Black Bull Lamborghini Huracan GT3.
A win at Paul Ricard in the South of France and dazzling second place in the legendary Spa 24Hrs has catapulted Mitchell and teammates Michele Beretta and Martin Kodric into second place in the title battle, 15 points behind the leading Mercedes – but with 25 on offer for a win over the Spanish F1 track in Sunday's three-hour race.
British Racing Drivers' Club Rising Star Mitchell said: "I think it's been a very positive first year in Blancpain GT because it's a big step up into the GT3 category, and also racing on the major European tracks.
"There's been a lot to learn in terms of new tracks that I've not raced on before, and mastering a completely different, more powerful, faster and aerodynamic car.
"I think, bearing all that in mind, I'm very happy with my performances in terms of pace and consistency," said the young Scot, who has been recruited into the Lamborghini Squadra Corse junior programme on the strength of his impressive performances.
The trio have bounced back after an electrical fault and gearbox failure respectively ended the Barwell Motorsport-prepared Lamborghini's challenge in the opening rounds at Monza and Silverstone, running strongly in a podium spot on both occasions.
"These non-finishes were outwith anyone's control, which was frustrating, but we knew we had good speed," said Mitchell.
"To be able to take that into Paul Ricard and the 24-hour race at Spa in Belgium, where the car ran faultlessly and we were able to get the results we deserved — a win in France and a second place, literally by two seconds, in the Spa 24Hrs — was excellent."
"Winning the Silver Cup would be huge. We go to Spain concentrating solely on what we can control.
"We have to focus on our performance and our race, and then see what effect that has had on the battle for the title," continued the Letham racer.
"We need to try and win the race, and then hope a few people finish between us and the Mercedes which currently leads the Silver Cup standings.
"I know everyone will be giving their maximum effort as a team throughout the weekend to ensure we put ourselves in the best possible position to win the race, and lift the title."