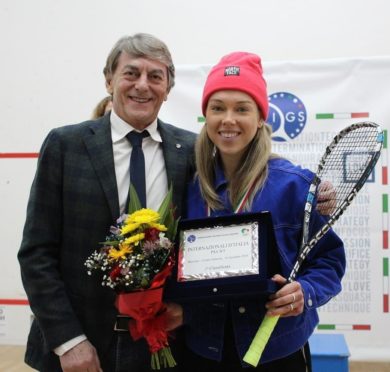 Montrose squash star Lisa Aitken isn't ready to properly celebrate her fourth PSA tour title just yet.
Because the left-hander is hoping to add another victory before returning home to Angus for Christmas.
Aitken flew straight from Italy to Finland yesterday for her second event in a fortnight and takes to the court today at the Remeo Open in Helsinki.
It follows Sunday's triumph at the Internazionali D'Italia tournament in Riccione which sealed her second PSA tour victory of 2018, the other being the Bangor Classic in Wales in June.
The weekend success was clinched courtesy of a 3-1 (11-3, 12-14, 11-5, 13-11) win over Switzerland's Cindy Merlo in the final but Aitken's attention quickly turned to Helsinki.
"I'm delighted to have won my fourth title and when I get home for Christmas and reflect back I will be even happier," she said.
"But right now I have a job to do and I'm keeping level headed and looking to continue the momentum in Helsinki.
"Instead of coming down from the high of winning I'm able to retain focus for this week due to the quick turnaround which is a good thing for me.
"I feel there's a lot more depth in the draw this week so it will be tough but I'm top seed and hopefully I can win again."
She added: "Kylie Lindsay (Scottish Squash Performance Coach) has flown out to join me which will be really valuable as playing back-to-back events can be tricky.
"I've been doing a lot of work with her recently and we have got a really good relationship so it will be nice having her in my corner.
"I'm playing England's Alicia Mead in my first match. She is a left hander as well and I'll be looking at some past footage of her matches before we take to court."
Last week Aitken came through a hard-fought match with Tessa Ter Sluis of the Netherlands in the semi-finals before the win over Merlo in the final.
The 28-year-old said: "I beat Cindy Merlo at an event in Aberdeen back in March but she has improved a lot since then.
"I felt she may get to the final even though she was sixth seed and I needed to bring my best game to the final.
"It was my toughest match of the week and fortunately in the second match ball I got the win."