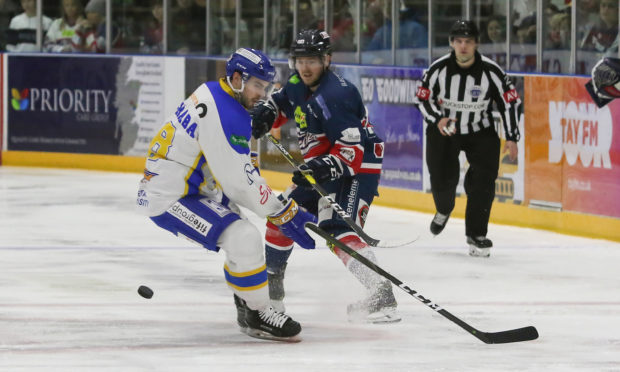 Stars held on to claim their fifth straight win over Flyers in a dramatic Elite League encounter that saw three players ejected at Dundee Ice Arena last night.
Fife hit back from 4-2 and 5-3 down in an eight-goal second period but Omar Pacha's side saw the game out to break a two-game losing streak.
The hosts welcomed the return of forward Lukas Lundvald and defenceman Connor Cox but Matt Bissonnette remained on the injured list. Fife travelled across the Tay without Chase Schaber, Evan Bloodoff and Andrew Little.
There were some early hostilities as Drydn Dow and Carlo Finucci clashed less than three minutes in. That sparked a brawl and Finucci was thrown out of the game for slashing, while Stars' Shawn Boutin and Fife's Brett Bulmer received minor roughing penalties.
It took Dundee less than two minutes on the man advantage to find the net, Matt Marquardt's shot deflecting in off the leg of a defender in the fifth minute.
Stars captain Johan Andersson got across to cut out a dangerous Mike Cazzola break as the visitors returned to full strength.
Bulmer had a huge chance to draw the visitors level but slid the puck wide from six yards. Stars produced some great attacking moves inside the final five minutes but Shane Owen stood firm.
The physicality continued in the middle period as goals flew in.
Marcus Basara drew the Flyers level after he managed to lift a shot over Pontus Sjögren 56 seconds into the period.
Todd Dutiaume's side went down to three skaters as Evan Stoflet joined the goal scorer in the box, leaving Stars with a two-man advantage for 43 seconds.
Marquardt picked out the top left corner of Owen's goal in the 24th minute before Pacha's powerplay scored their third of the night. This time Brian Hart redirected Dow's shot to move the home team 3-1 ahead.
VIDEO: Clubs say ice hockey is 'going to boom' in Tayside and Fife following huge surge in interest
Flyers nicked one back as a shot trickled through Sjögren and Smith was there to tap in the rebound after 27 minutes but Lundvald slotted home Stars' fourth in the 30th minute.
However, following the restart, Joe Basaraba was fouled by Cownie when through on goal to earn Fife a penalty shot and the forward took his chance to bury it in the top corner 35 seconds later.
Dundee made it 5-3 after a few shots were knocked out of the air but one fell to Hart and he turned on the spot to slide the puck past Owen to restore Dundee's two-goal lead in the 34th minute.
Flyers gained their first powerplay opportunity as Mike Sullivan was boxed for cross-checking in the 35th minute.
Before their advantage expired, the Kirkcaldy team worked the puck around well before feeding it to top scorer Paul Crowder and he rifled a shot past Sjögren in the 36th minute to make it 5-4.
There were a few big chances for Stars in the final minute but they could not net again before time expired in an eight-goal second stanza.
Sjögren was forced into an early save in the third period and Dundee were under pressure again as Hart sat for two minutes on a slashing call.
Bulmer rattled the post before play was interrupted by a series of scraps with Sullivan and Danick Gauthier sent to serve five minute majors.
Pacha's men could not score a fourth powerplay goal but with Fife's keeper pulled in the final two minutes, they had an opportunity to wrap up the game.
Ricci was unable to get a shot off but the Stars forward collided with a Flyers player and sent him into the boards.
Bulmer then got involved and, after being separated, the referees sent both players to the dressing room before recalling them to serve minor roughing penalties.
Dundee held on, though, to claim a welcome victory ahead of tonight's return in Kirkcaldy (6.30pm).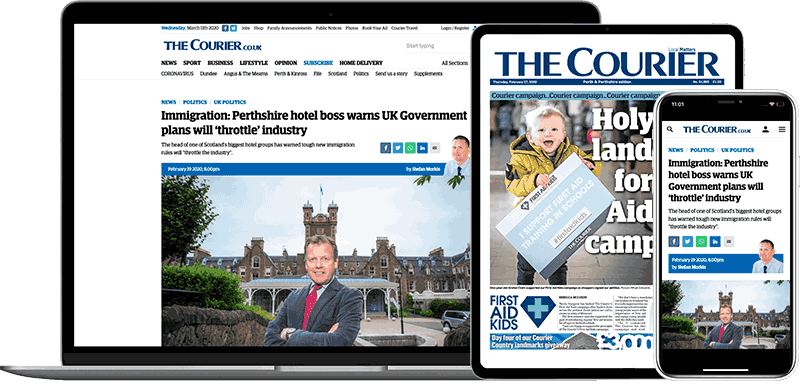 Help support quality local journalism … become a digital subscriber to The Courier
For as little as £5.99 a month you can access all of our content, including Premium articles.
Subscribe