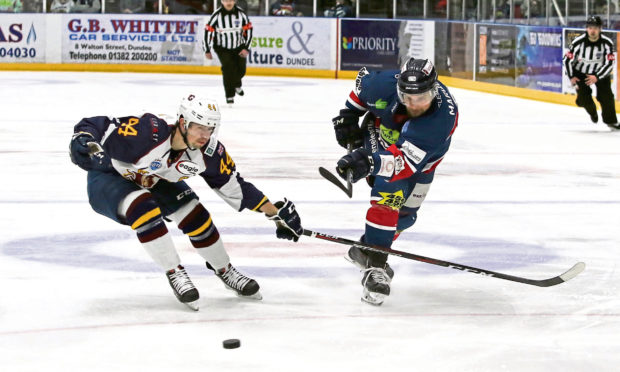 Dundee Stars made it four victories on the bounce after two comeback wins against teams above them in the Elite League.
Dundee's 4-3 win over Nottingham Panthers on Friday moved them up to sixth despite an injury crisis that has seen François Bouchard, Matt Bissonnette and captain Johan Andersson all sidelined.
For Sunday night's clash with Guildford, however, Stars were boosted by the early return of Jordan Kelsall from international duty with GB.
Guildford rested Chris Carrozzi and were still awaiting the return of their GB U20 internationalists Joshua Waller and Richard Krogh.
Dundee looked the most dangerous in the early stages and Flames goalie Travis Fullerton was forced to hold on to a couple of dangerous shots.
Dundee's Mike Sullivan put his body on the line to stop Kruise Reddick's effort getting through to Pontus Sjögren.
The first entry on to the game sheet came in the 17th minute as Stars' Shawn Boutin was penalised for hooking.
However, Paul Dixon's men could not take advantage with the extra skater and Dundee's defence continued to thwart the Flames. Once he was back in the game Boutin made a crucial block to prevent John Dunbar's pass going across the face of goal.
Stars head coach Omar Pacha was extremely frustrated when a second penalty was called against his side with 22 seconds left on the clock.
Drydn Dow was the player penalised and he had to sit in the sin bin for the opening 98 seconds of period two after he hit the puck out of bounds.
With just eight seconds left on the powerplay, Flames' advantage was cut short as Jamie Crooks was guilty of a slashing foul. The home team also failed to make use of the powerplay and the game remained scoreless.
Fullerton and Sjögren continued to deny everything that came their way as the match reached the halfway point without any goals.
The deadlock was finally broken as Dunbar turned in Reddick's long-range pass in the 34th minute to give Flames the lead. Reddick was then boxed on a slashing call to give Stars their second powerplay late in the middle period.
However, the Surrey side did enough to protect their slim advantage going into the final intermission.
Dundee almost found a leveller as Dow's rising shot was turned over by the stick of Fabrizio Ricci. Flames' defence continued to prevail against constant attacks from Stars as they searched for an equaliser.
The home team's first goal finally came following a dangerous hit on Ricci. The Canadian forward went head first into the boards but got straight back up and set up an easy backdoor finish for Charles Corcoran in the 54th minute.
Pacha's men failed to find a winner in regulation but still had 36 seconds remaining on their man advantage for the overtime period.
On the 63-minute mark Matt Marquardt won it for Stars. He drove towards the net from the left before putting a shot off the shoulder of Fullerton, with the rebound falling to the Canadian to slide home the winner and secure Stars' first win against the Surrey side since they entered the Elite League in 2017.
Dundee Stars 2 – Guildford Flames 1 (OT)
Elsewhere Fife Flyers went down to Nottingham Panthers on home ice on Sunday – 24 hours after grabbing their fifth win of the season over Guildford Flames.
Todd Dutiaume's men failed to hold their nerve in a 3-2 defeat as the Midlands visitors ended a six-game losing streak.
Fife Flyers 2 – Nottingham Panthers 3
Elsewhere league leaders Cardiff Devils blitzed Belfast Giants 5-2 to move nine points clear at the top, while Sheffield Steelers beat MK Lightning 2-1 and Coventry Blaze won 4-3 away to Manchester Storm.Kri Smith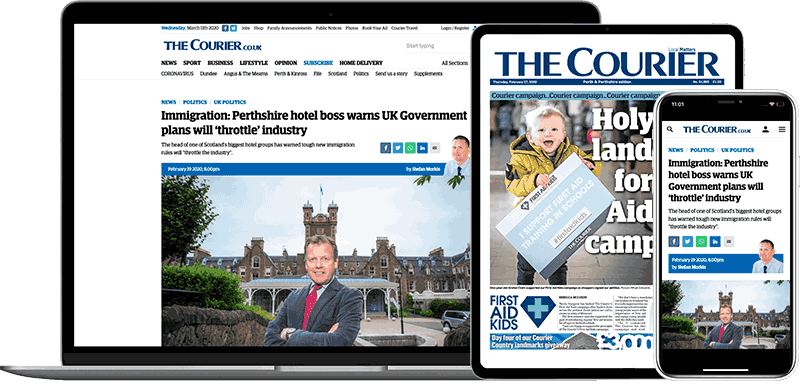 Help support quality local journalism … become a digital subscriber to The Courier
For as little as £5.99 a month you can access all of our content, including Premium articles.
Subscribe