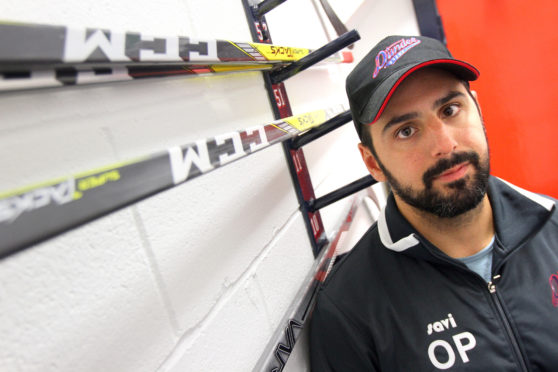 This time last year there was more hope than expectation that Dundee Stars would reach the end-of-season Elite League play-offs.
Now there is both.
Going into a "huge" weekend of fixtures for the Stars, Omar Pacha's team are just two points off the last spot and have two games in hand on the club that currently holds it.
Back-to-back games against play-off rivals are coming over the next two days, and the Canadian head coach believes Dundee are ready to grasp their opportunity.
"We've got 11 games to go now," said Pacha. "And this is a huge weekend.
"The biggest issue for us was losing Francois Bouchard recently. He was on track to be a point a game guy and he's a big miss.
"Hopefully we can keep progressing without him and make the play-offs.
"We had a good game against Fife last weekend, which unfortunately didn't go our way.
"We're now one point behind Coventry and face them on Sunday and we're one point behind Manchester and face them on Saturday.
"Destiny is in our own hands which is important. You don't want to be in a position where you're wishing for teams to lose.
"Last year we had a good run after Christmas but we weren't quite strong enough as a team and left too much to do.
"This year we're close and we need to keep pushing.
"Every game is a cup final at the business end of the season."
As is the case in every team sport, it is groups who thrive under pressure at the end of a season rather than wilt who prosper. Pacha believes that his squad fall into the first category
"I think so," he said. "The guys are aware of what is needed and I'm confident they'll respond to the pressure.
"We are plainly well but we're making silly mistakes. We've talked about how hard we're working and not to give away silly goals.
"They take pride in playing for the Stars and they take pride in making the play-offs. Yes, we're the underdogs but we're still striving to achieve our goals.
"There's an opportunity for us to finish anywhere from fifth to 10th.
"Fife are five points ahead but that can be made up in two weekends.
"We've got a good schedule coming up. The unfortunate thing is we only have four home games left. But if you want to make the play-offs you need to do something special.
"This has been the hardest Elite League there's ever been. Two teams will get to the Champions League next season.
"Every team has a higher budget than us and we've remained competitive. As we speak, we're one point off a play-off spot.
"To be in there fighting to the very end is all you can ask really."
Pacha is also the club's general manager – and there is no debate about the off-ice trajectory of the Stars.
He said: "As of now our attendances have been up about 15% from last year which is a good accomplishment for everybody in the club on and off the ice.
"That's on the back of growth the year before.
"And with fewer games against Scottish teams at home, that percentage will be even bigger for our own support.
"You can look around the arena and see the increase in the number of kids who come here. There must be 300 to 400 who come to every game, which is a great number.
"It was a big focus of ours.
"We've been involved with schools and the passion for the sport and the club is growing.
"We had a strong core of hockey fans before but since we've made it more of an event, the families have bought into it as well."
Injuries have forced Pacha to put his skates back on for a second season in a row but he hopes to be on the sidelines this weekend.
"As of now, the plan this weekend I won't play," he said.
"We lost three defencemen in a week and we felt it was the best thing for me to step in for a few games. I won't be getting used to playing again but I was happy to help the guys to win one of the three games."
Meanwhile, Dundee netminder, Pontus Sjögren,  is upbeat about Dundee's chances in Manchester tonight.
He said: "We have a good chance of winning if we stick to the game plan.
"The defence game is the key, as always.
"We are most successful when we play a strict defensive game and do not give up any dangerous chances to the other team.  Offensively we are always dangerous."
The veteran goalie has known plenty of tight play-off battles in his career and is ready for another.
He said: "One year it was decided in the last round if my team would go to the  play-offs, be in no man's land or get relegated. I'm sure it won't be settled until the last games this year."
Dundee's Sunday home game against Coventry is a 5pm face-off.