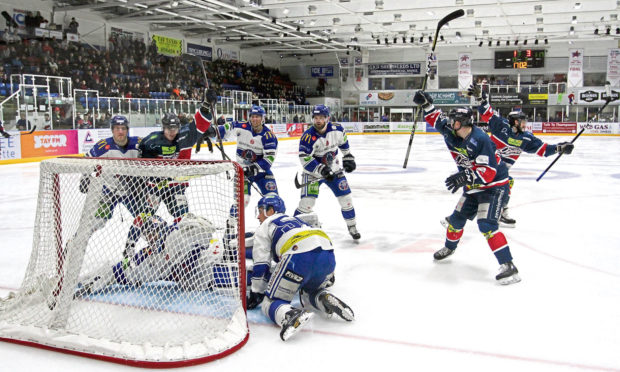 Dundee Stars picked up two valuable Elite League points last night with a thrilling 4-3 comeback win over Coventry Blaze.
It was a huge victory for Dundee as they responded to a 4-2 loss in Manchester 24 hours earlier.
Fabrizio Ricci and Jordan Cownie found the net for Omar Pacha's men on Saturday but the Tayside team faced huge adversity after a controversial penalty saw netminder Pontus Sjögren sent off.
Last night Blaze dominated early possession but Matt Bissonnette missed a chance to open the scoring for Dundee before an important save by Sjögren kept the game scoreless.
Stars went ahead on 11 minutes when Jordan Cownie danced through the Blaze defence and set up Fabrizio Ricci to give Stars the lead.
Tim Crowder was denied by Sjögren early in the second period as Blaze pressed. A bad turnover in front of the Dundee goal was converted by Alex Forbes to tie the game after 24 minutes.
Then an overpowered Dundee shot sent Ben Lake through and his pass across goal was deflected off the stick of Jordan Cownie and into the Stars net.
Coventry went 3-1 up inside the final minute of the second period after Shawn Pauly punished another bad mistake.
The Dundee netminder lunged from his post to try to block a pass but the Blaze star quickly rifled a shot into the top corner.
However, the comeback began early in the final period when Dundee made it 3-2.
Fabrizio Ricci chopped away at a loose puck before sending it into the roof of the net on 43 minutes.
Dundee began to dominate the play and with a delayed penalty against the visitors, Stars took full advantage and tied the game.
Shawn Boutin fired in a slapshot from the blueline and Matt Marquardt poked home the puck.
Coventry were stunned when Ricci bagged his hat-trick on 50 minutes after jamming away at another loose puck.
Dillon Lawrence was trying to get his side back on level terms but Sjögren continued his solid display in the third and kept out the Canadian's shot with five minutes left in the game.
Stars are now back to within one point of a play-off spot. Pacha's men face Nottingham Panthers away on Saturday before hosting Manchester Storm 24 hours later.
Nottingham Panthers 4 Fife Flyers 3 (after sudden death overtime)
Robert Farmer broke Fife Flyers with a winning goal in the first minute of sudden-death overtime.
The Kirkcaldy club had led three times in a see-saw battle away to Nottingham Panthers.
However, the Midlands club were always able to claw the scoreline back and Fife capitulated after 57 seconds of the extra session, with Farmer netting the crucial goal.
Danick Gauthier had caught Panthers cold with a goal after 80 seconds, but Chris Stewart levelled on a power play after seven minutes.
Within seconds, however, Todd Dutiaume's men were ahead for a second time when Joe Basaraba scored short-handed after good work from Mike Cazzola and James Isaacs.
Back came Nottingham and Farmer made it 2-2 only 43 seconds from the first break.
Three minutes into the second period and Fife went 3-2 in front when Evan Bloodoff provided the final touch after good work from Isaacs..
Jon Rheault levelled for a third time early in the final session to take the game into overtime.