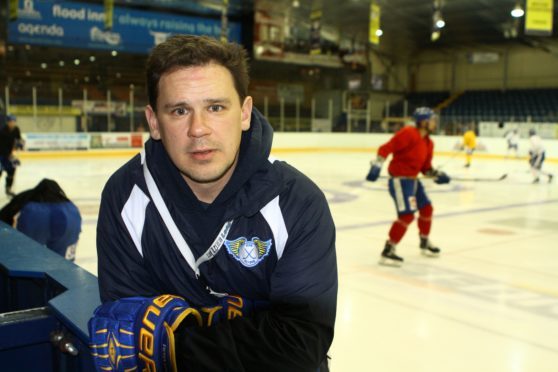 Rick Pinkston claimed a sudden-death overtime winner as Flyers edged play-off rivals Sheffield Steelers in an Elite League thriller at Fife Ice Arena.
The American defenceman claimed the deciding goal three minutes 17 seconds into the extra session after the home side had scored an equaliser in the dying seconds of regular time.
The win ended a depressing three-game losing streak and Fife now move on to 58 points from 53 matches.
Sheffield earned a point by taking the game into overtime and they are also on 58 points, but from 56 outings.
The men from the House of Steel stay in sixth position, one place ahead of the Kirkcaldy club, as they have won one more game in regulation time.
Fife had moved into a 2-0 lead after 14 minutes. Brett Bulmer opened their account and Danick Gauthier added a second with assists from Scott Aarssen and Bulmer.
But Sheffield hit back on 25 minutes when former Edinburgh Capitals defenceman Ben O'Connor netted on the power play.
Fife were punished again six minutes later when Aaron Johnson levelled, again with a Flyers player in the sin bin.
The Yorkshire team edged ahead with a third unanswered goal, also on the power play, when John Armstrong converted in the 47th minute.
Back came Fife and Evan Bloodoff found the net after good work from Joe Basaraba with the clock at 51 minutes.
Sheffield were not to be denied, though, and claimed a fourth goal through Jonathan Phillips with less than two minutes left.
The fans were on the edge of their seats as Fife pressed for a leveller and it arrived from Bulmer on a power play with only 31 seconds on the clock.
It was left to 28-year-old Pinkston to be in the right place at the right time with Carlo Finucci and Joe Basaraba involved in the move that sealed the win.
Flyers had slipped up 4-1 to Steelers on Saturday night.
Robert Dowd gave the hosts the lead after 10 minutes but Finucci levelled in the 37th minute.
Eric Nelley restored the home lead after 44 minutes and Dowd netted his second two minutes later. Nelley added his second and Sheffield's fourth on the power play after 56 minutes as Fife hit penalty trouble.
Stars' play-off hopes hit
Dundee Stars' play-off hopes suffered a double blow over the weekend with defeats by Nottingham Panthers and Manchester Storm.
Stars lost 4-1 in Nottingham on Saturday before a controversial 4-2 home defeat by Storm last night.
The scores were locked at 1-1 when Matt Marquardt thought he had given Stars the lead. Storm played on and scored and, after a review ruled the Dundee goal out, the visitors goal was allowed to stand.
Stars are now 10th in the table, three points out of the play-off places.