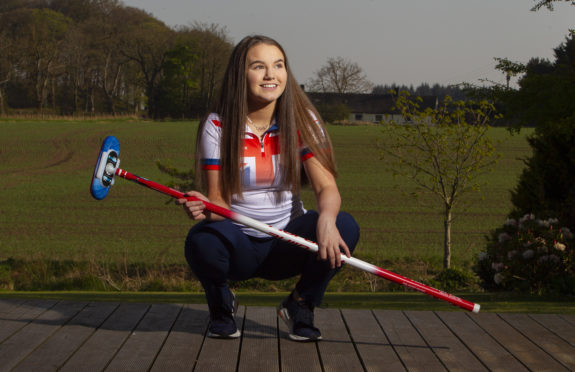 European youth Olympic curling champion Inca Maguire is gearing up for a busy summer as she takes to the ice in three different countries on two continents.
Today, the Angus teenager flies out to Sweden to represent Scotland in the Nordic Junior Curling Tour Under 21s Mixed Doubles.
She is travelling with her curling partner Niall Ryder, 16, from Stranraer after the pair secured their place by winning the first ever Scottish under-17s mixed doubles competition at Murrayfield.
Also competing from Scotland will be the third place winners, Dundee High School pupil Alex Mackintosh, 17, from Edzell and her partner Jack Carrick, 16, from Dumfries.
The competition in Sundbybrg in Sweden runs from Thursday until Sunday with the four accompanied by team coaches Jane Stirling and Robin Brydon.
Inca, 15, a fourth year pupil at Forfar Academy, has been studying for five National Five exams – the first of which she sits next Tuesday, the day after she returns home.
She is back on the ice in July after she and two of her under-17 and 21 team-mates were selected to go to the Humelt Curling Camp in Fussen in Germany.
Inca, along with Robyn Munro from Stranraer and Laura Watt from Auchterarder, will take part in the week-long camp where young athletes from all over the world will learn and develop new skills and enhance their performance.
The youngster's third and final foray into overseas events comes in August after she was successful in securing a place at the Trillium Camp near Ontario, Canada.
She was invited to be interviewed by Rotary International and The Matt Murdoch Foundation for selection.
Every year two youngsters attend the camp and Inca was selected along with Kyle McLain from Kelso.
They are away for 10 days and will be coached by some of the best in the world.
Inca's 2018-19 curling success hit the headlines when she and her team won the gold medal at the European Youth Olympic Festival in Sarajevo.
She was part of Team GB's mixed curling quartet which defeated Switzerland 6-2 in the final match to win the tournament, ensuring their 100% record over the course of their eight matches.
The team, skipped by Hamish Gallacher and featuring Angus Bryce and Robyn Munro, came out on top, navigating their way through a nervy first few ends to secure victory after the eighth.
Inca remains focused on her game plan as she works her way to what she hopes will be a place in the Winter Olympics in 2026.
She first took to the ice with Forfar Young Curlers at the age of eight and is hoping to make a career out of the sport.
She said: "This year has been amazing, it has been an unbelievable season and there will hopefully be many more like this to come.
"Hopefully I will be able to develop a lot to push me further for another good season next season."
Inca has proved to be an excellent ambassador for the sport, giving talks on her success at her former primary school in Forfar and to Rotary clubs in Angus. She also gave a talk to members of the Lowson Memorial Church in Forfar which raised £800 to help her cover travel and accommodation costs.
jathomson@thecourier.co.uk