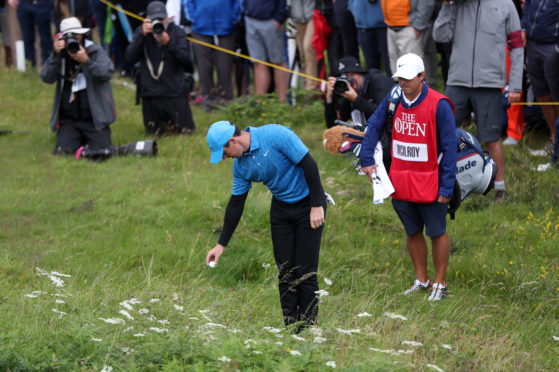 Rory McIlroy's 2019 season, by any judgement, has been one of remarkable success.
His play-off victory in the HSBC Champions WGC event in Shanghai at the weekend was his fourth of the year, and his 11th top five finish.
He's missed just two cuts, finished outside the top 20 just twice in his 22 other starts – in the only two events in Scotland, the Scottish Open and the Dunhill Links, strangely enough – and won over $25 million in prize money.
Rory's gone from World No 8 at the start of the year to No 2, reducing Brooks Koepka's lead to just a point with a fair chance of overhauling the American before too long.
Koepka is World No 1 in the rankings, but as is normal since Tiger fell off that particular perch, nobody's entirely convinced by what comes out of OGWR Towers every Monday morning.
I've heard many sage voices declare Rory to be the actual best golfer in the world, and I get that – up to a point.
Certainly 2019 has been a year of remarkable consistency for him. It doesn't of course match the ultimate of Tiger in 2000, when Woods won 10 events, was top three in six more, finished outside the top ten just three times – one of which was an 11th – and didn't miss a cut in 22 attempts.
But that's a massive outlier, certainly in golf history and maybe in all of sport. We will never see the like of that again.
Take out Tiger, as you are almost obliged to do to make meaningful comparisons in golf, and Rory's 2019 is unquestionably impressive.
Koepka has never won four times in a calendar year. Rory's season is the best since Jordan Spieth's five wins, five seconds and eight other top tens in 2015.
Tiger with nine wins in 2006 and Vijay Singh with eight in 2004 are the others worthy of note in modern times (I'm not going to go into Byron Nelson in 1945 or Ben Hogan in 1946, if you don't mind).
Rory's won plenty times in a year before himself, of course – five wins in 2012, four in 2014 and 2015, although none of those had the relentless consistency of this season.
But (and face it, you knew a but was coming) while 2019 has been an outstanding year by McIlroy, it can't really enter the realms of the exceptional.
Because for all that the HSBC Champions, the Tour Championship (plus all the FedEx cup fripperies), the Canadian Open and the Players Championship amount to an impressive list, there's something glaringly absent.
I have sympathy with the view that the major championships are over-stated in importance in modern golf. Four weeks out of 50 played across the world is no-one's idea of a fair and representative sample.
But that's the world we live in. And for the public, the four major championships, whenever and wherever they are played, are the primary focus in the sport.
So, what will be remembered longest about Rory McIlroy in 2019 – his dominance of the quality fields assembled at Shanghai, Sawgrass and Atlanta, or his performance in the major championships? Specifically, his performance on one day in July on home soil?
As much as it's unfair to judge someone on four events out of 25 played, it's even more unjust to judge a player on one round out of the 92 McIlroy has played at the highest level this year.
But as we know, golf's not a fair game, and public perception isn't either.
McIlroy's 79 on the opening day of the Open at Royal Portrush stands out starkly in his list of scores for the year – only the first round at the BMW PGA Championship, a mere 76, comes anywhere close to being as poor.
And it was also, surely, the most significant round of his entire year. Rory's emergence in the last decade was part of the reason the Open went back to Portrush. It's where the focus of the entire sporting world was on him.
I'm not one for drawing any psychological conclusions about McIlroy from that day. This, maddeningly, is just what happens in golf. Tiger in 2000 and Rory for the rest of 2019 are exceptions, not the norm.
McIlroy has actually had this happen before in an event that meant a great deal to him, missing the cut in the 2015 Irish Open when he was hosting it for the first time, having saved the future of his home championship. He won the tournament the following year.
But whether we in golf think a Players and a Tour Championship and a WGC in one season add up to a major, in reality, and in the eyes of the general public, they don't.
And in virtually all of those great seasons listed above, Tiger in 2000 and 2006, Singh in 2004, Rory himself in 2012 and 2014, Spieth in 2015, the win count included at least one major.
The only ones that didn't? Rory in 2015 and 2019.
Life in the old Monty yet
The window for Champions Tour wins – if you're not the ageless Bernhard Langer – seems to be all too short.
Colin Montgomerie, after six wins in his first four years, might have had his day. Instead, at the Invesco QQQ Championship on Sunday, he took a seventh title beating Langer in a play-off.
Quality players are constantly graduating to the Champions Tour. Nice to see that Monty can still compete in that company.