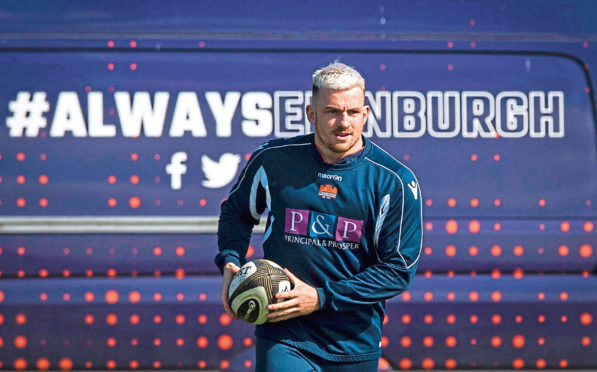 Matt Scott has stopped trying to become a midfield bruiser and believes he will be a better player as a result – for both Edinburgh and potentially Scotland.
The 29-year-old Dunfermline born centre is having his best start to a season in some time with the capital club, reminding all of when he was a Scotland regular around the time of the 2015 Rugby World Cup.
But he admits listening to coaches tell him he had to be bigger, and he now feels his best rugby is at the weight he feels most comfortable with rather than becoming a battering ram.
"I've taken the onus myself this year," he explained as he prepared for Friday's European Challenge Cup game against Bordeaux-Begles at BT Murrayfield. "Sometimes I think you get led by coaches in a certain way and in my case I have perhaps been led by their perception of what kind of player I should be.
"For years I have been moulded into a type of player with a certain kind of role that meant I was limited and maybe wasn't showing my full capabilities."
Scott bulked up when he was out for a prolonged spell with concussion last season, simply by going to the gym and doing too many weights.
"I'm lucky in a sense that whenever I do a lot of weights I put on size quite easily, but what's the benefit of me doing extra weights when I'm just going to get bigger and bigger?" he pointed out.
"On paper you probably look like a better athlete because with 10 extra kilos my body fat was really low, I was running good speed times, but on the pitch in games I felt knackered all the time just dragging around so much extra weight.
"You then get over the tipping point of being effective as a rugby player. It's a bit of a myth that the bigger you are, the better you are at winning collisions, the more mobile you can be as a centre, wing or full-back, you're going to break as many tackles and win as many collisions and also get through more work."
Scott has trimmed from 110kg last year back to his preferred weight of 101kg, and is back to being the player he feels he should be.
"With the extra kilos I felt like I didn't have the speed or agility to make an outside break so I started carrying differently: I wouldn't look to run into space, I'd look to run over the top of someone," he said.
"Now I feel I'm way more mobile, I can use my feet, work round the opposite side of the field and get up in support inside of another player. And I'm getting through more work than I've ever done because I have the energy."
As for Scotland, it's not an everyday thought, but it is a goal.
"What's going to get me in there is my process of continuing to improve and get better," he said. "Obviously, the best way to do that is for me to play well for my club.
"Thinking too far ahead is probably not the wisest move. I'm working hard on myself everyday to be an international player again. If you don't have those aspirations at a higher level then you will probably become stagnant."