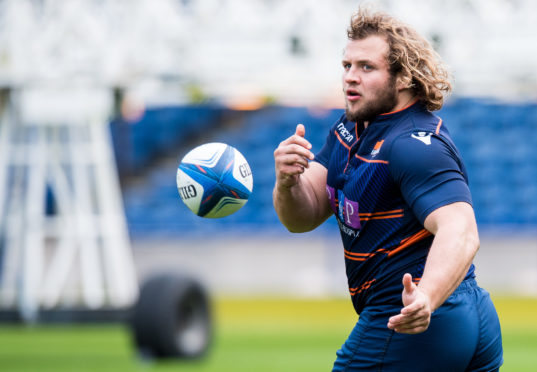 Edinburgh's Pierre Schoeman would be playing for Scotland already if he had qualified through residency, believes Richard Cockerill, and he will be in three more years' time.
The popular South African-born prop has signed an extension to his current contract – which still had a year to run – for a period described by the club as "long-term" but Cockerill confirmed it would go through to the World Cup in France in 2023.
"He'll be available (for Scotland) for the next World Cup," said the head coach. "Pierre is a very good player and if he was Scottish qualified now, I think he'd certainly be in the mix to play.
"We're delighted to keep him. It shows that we've got good players who want to stay and the environment that we're building. We're two and a bit years into this, so we want to keep building and getting stronger and keeping our depth and so we're doing everything we can to keep our best players.
"My job is to keep the squad together and keep pushing the national cause as well as my cause for Edinburgh so hopefully he'll be here longer than me."
Schoeman has quickly become a fan favourite at Edinburgh in the 18 months he's been at the club, and has always made clear his intention to serve the entire five-year residency required now by World Rugby to qualify for international rugby.
"I'm very excited to stay in Edinburgh, it's been a year and a half since I arrived and I've enjoyed it so much," said the 25-year-old.
"It's a very professional and hard-working team and I'm incredibly excited for a long future at the club.
"It was a really easy decision for me. Scotland is a beautiful country and for me and my wife, we want to build a future here. I can't wait to contribute to the success of this team."
Cockerill said Schoeman's outgoing personality was good for the club culture – "if you want to have some fun, in all the right ways, go out with Schoey" – but he also had the right attitude to work.
"The way he goes about his business in training and the way he plays, his durability to turn up every day and train and play whenever you want him to play, is as good as anybody," continued the coach.
"He works very hard and he takes criticism well. He comes in every day with a smile on his face and treats everybody as equal whether you're the intern or you're the head coach, he treats everybody the same."
Edinburgh face the start of a huge period in their season with back-to-back European Challenge Cup games against Wasps – starting at BT Murrayfield on Friday – followed by the two 1872 Cup matches over Christmas and New Year against Glasgow.
"Wasps are a big European club, they've won the Heineken, they've been English champions," he said. "They've got three All Blacks in their back line, they've got a Springbok, they've got England internationals, so they've got some very good players.
"Clearly they've not started the season the way they would have liked and they've got a few injury issues but that's part and parcel of the game, we've all got a few of those.
"We know that if we put our best game on the field we'll more than compete with them, but if we're sloppy and inaccurate then they've got some real quality there, we need to be on it."
Darcy Graham will be playing for the first time since the World Cup this week but fellow Scotland player WP Nel will be held out for another week, added the head coach.