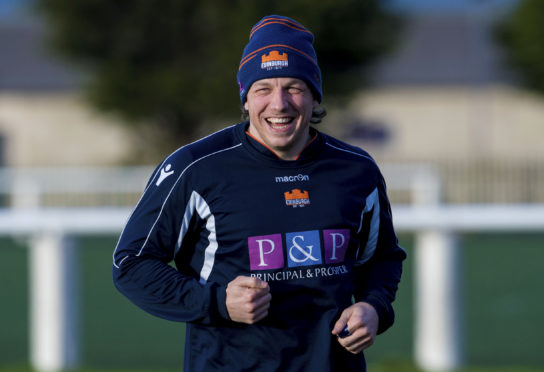 Hamish Watson felt the whole rollercoaster of emotions from despair to relief to frustration in the last two months but the all-action flanker is now back for Edinburgh and for Scotland.
Watson's Rugby World Cup was cut cruelly short in the first game against Ireland when he injured his knee – and he knew right away that his time in Japan was over when it happened.
But despair turned to relief when Scotland team doctor James Robson found his ACL was intact – meaning surgery and a potential four to five month absence was avoided.
"In the end I got lucky with it," he said, having made his comeback in Edinburgh's Guinness PRO14 win at Munster at the weekend. "It was just a grade two medial, which is usually 10 to 12 weeks but I made it back in just nine.
"With your knee before you know straight away. I felt it stretch and felt something snap a bit and at that point I was just thinking 'I hope it is not my ACL' which is what most players think, because we think the worst with any injury.
"The docs thought it was the medial when we got to the changing room and I went for a scan straight after the game (which confirmed it). It was a bit of a silver lining that it was only a 10 to 12 week injury and I would be back for Edinburgh pretty soon."
Watson's relief at that at least part assuaged the crushing disappointment of his early exit from the World Cup, but there was still the frustration at seeing Scotland exit the tournament after the pool stage.
"Four or five years ago I would have been coming back to an empty flat in Edinburgh and that would have been a bit bleak, but this time I had my wife and daughter so it all felt so much better than it could have," he said.
"I got a week or 10 days off at home to get my head round it and chill with the family, then it was straight back in with the Edinburgh S&C coaches who obviously looked after me really well getting me back a week or a few weeks early.
"We were struggling a little bit for back row and I really felt good to go. So it was a conversation I had with Cockers about that and it was good to get 80 minutes under my belt."
The win in Munster sets up Edinburgh for the doubleheader against Wasps in the European Challenge Cup, followed swiftly by the 1872 Cup games against Glasgow.
"It is an important part of the season with those back-to-back European games where we know we are going to have to, after the draw against Bordeaux, win both to have a chance of that top seeded spot," he said.
"For me it was a bit scrappy last week but it's just good to get a full 80 and get used to playing again."
In his absence, replacement Jamie Ritchie was Scotland's best player at the World Cup, and Watson was cheering him as a friend and clubmate.
"It is a great thing for the club that we have great strength in depth," he said. "You can see across the squad that Cockers is rotating players and resting players a bit more.
"Last season he had the same starting team for a few consecutive games. Now it is good competition, you can never rest on your laurels, you have one or two bad games and there is somebody else coming through to take your spot.
"I was watching all the games In Japan, wishing Jamie all the best and hoping the boys played well. It didn't go the way we wanted it to but there still some decent individual performances, especially from Jamie."